Home
MLADIC'S ROUTE FROM SREBRENICA TO HAN PIJESAK
A police officer from Bratunac testified at Ratko Mladic's trial today. In July 1995, the witness escorted Mladic en route from Srebrenica to the Main Staff in Han Pijesak. In his statement to the investigators in Sarajevo in 2006, he described how Mladic calmed down the prisoners from Srebrenica, slapped Serbs and sent women to the forest to 'kill Turks' with sticks and stones. In the meantime the witness has forgotten many of those things and the prosecutor had to refresh his memory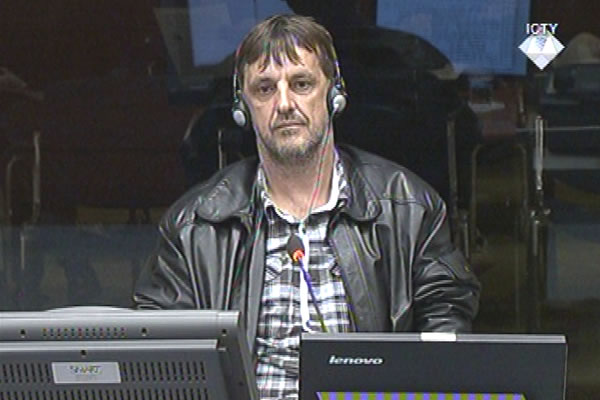 Pero Andric, defence witness at Rako Mladic trial
During the Srebrenica operation in July1995, Pero Andric, a military policeman in the Bratunac Brigade, provided security along roads used by VRS officers, including Mladic. On 11 July 1995, the witness secured the Sase-Pribicevac route. The next day Andric went to Potocari where he saw Mladic address the gathered refugees from Srebrenica.
The most interesting part of Andric's evidence pertains to 13 July 1995, when he accompanied General Mladic from Bratunac to Srebrenica and then to Han Pijesak via Sandici, Konjevic Polje, Nova Kasaba, Milici and Vlasenica. In the examination-in-chief, Andric said that on his way from Srebrenica to Han Pijesak Mladic stopped in Sandici where he addressed the Muslim prisoners. Mladic told them that they were not guilty of anything, that they would be taken to the places they wanted to go, and asked that the buses be provided for that purpose.
When Judge Moloto asked Andric if the buses arrived while he was still there, he replied that they didn't. The prosecutor then confronted the witness with his statement to the Bosnian authorities in 2006. In the statement, Andric said the exact opposite: that two or three buses arrived in Sandici while Mladic was still there. Andric even heard Mladic tell the prisoners to get on buses.
Also, Andric claimed that on 13 July 1995 he never saw Momir Nikolic. In his testimony, Nikolic claimed that in Konjevic Polje Mladic had made a hand gesture showing that all prisoners would be executed. Today Andric testified that after Sandici Mladic made no other stops before they reached Nova Kasaba. There, Mladic also spoke to the detainees in the football stadium. In the 2006 statement, the witness noted that before arriving in Nova Kasaba Mladic made a brief stop near the crossroads in Konjevic Polje. There, Mladic talked to a group of officers in different uniforms. Andric claimed that he 'forgot' the event, and he finally agreed with the prosecutor's suggestion that his memory had been better in 2006.
When he was questioned by defense counsel Miodrag Stojanovic, the witness said that Mladic and his escort went from Nova Kasaba to Vlasenica, where they stopped for lunch. Then they continued to the entrance to Han Pijesak, where they stopped at a gas station to refuel. In the cross-examination, the prosecutor contrasted this concise description of the events with the witness's statement from 2006, which contains more interesting details.
According to the previous statement, after Han Pijesak, Mladic first stopped in Milici. There Mladic saw an elderly man with a stick walking out of the forest. Mladic slapped the man several times shouting at him 'what are you doing here, why aren't you fighting'. Mladic ordered the man to pull down his underwear so that Mladic could see if the man was indeed a Serb. Mladic then made a stop in Han Pogled where he saw a group of police officers by the side of the road. Mladic ordered his bodyguard to slap the commander five times because they were resting there 'instead of going into woods to fight'. Also, Mladic told a weeping woman who was on her way back home from a funeral that he didn't care about the burial as it was not worth crying. 'Go into the woods, take a stick or a stone and kill Turks', Mladic told her.
Ratko Mladic's trial continues after Easter holidays, on Tuesday 7 April 2015.