Home
NIKOLA SAINOVIC IN PRISON IN SWEDEN
According to the decision issued in March 2014, Nikola Sainovic, former deputy prime minister of the FR Yugoslavia, will serve the remainder of his sentence in Sweden. The decision was not made public immediately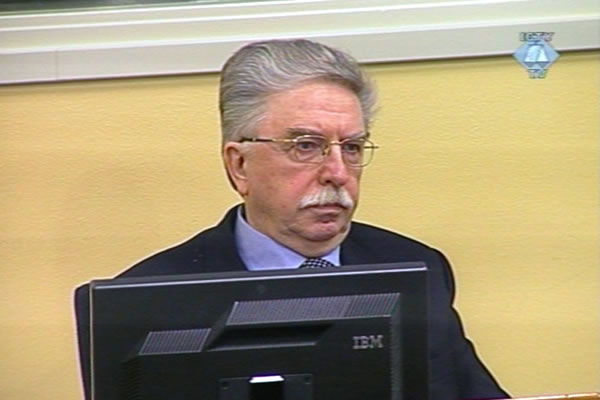 Nikola Sainovic in the Courtroom
According to the decision of Theodor Meron, the president of the Mechanism for the International Criminal Tribunals, Nikola Sainovic will serve the remainder of his 18-year sentence in Sweden. The decision was issued on 31 march 2014 but was confidential until today.
The former prime minister of the Federal Republic of Yugoslavia was convicted for his involvement in the joint criminal enterprise aimed at the ethnic cleansing of Kosovo in 1999. Crimesagainst the Albanian population: murders, expulsion, abuse, rape, looting and destruction of property, were part of the criminal enterprise. Military generals Nebojsa Pavkovic, Dragoljub Ojdanic and Vladimir Lazarevic were sentenced at the same trial to 22, 15 and 14 years respectively. Police general Sreten Lukic was sentenced to 20 years in prison. Lukic's police colleague Vlastimir Djordjevic stood trial separately and was sentenced to 18 years.
Nikola Sainovic came to the UN Detention Unit in 2002. The time he spent in detention and the periods of provisional release have all been credited against his sentence and Sainovic has thus served almost two thirds of the sentence. In line with the usual practice at the Tribunal, at that point, the convicts can apply for early release. Consequently, it is expected that 'one of Slobodan Milosevic's closest and most trusted men', as the judgment put it, from the period of the Kosovo conflictwill be released from prison in maximum two years' time.
It has recently been disclosed that General Nebojsa Pavkovic, who was on trial with Sainovic, is serving his sentence in Finland, in line with president Meron's decision.