Home
KUDOS TO ACCUSED
Defense witness Vojislav Vukcevic had nothing but praise for the accused Goran Hadzic. In Vukcevic's words, Hadzic espoused 'moderate views', he came from 'a placid environment' and 'a proper family'. Hadzic 'had everything he needed, and therefore was not a spiteful, mean or bad man'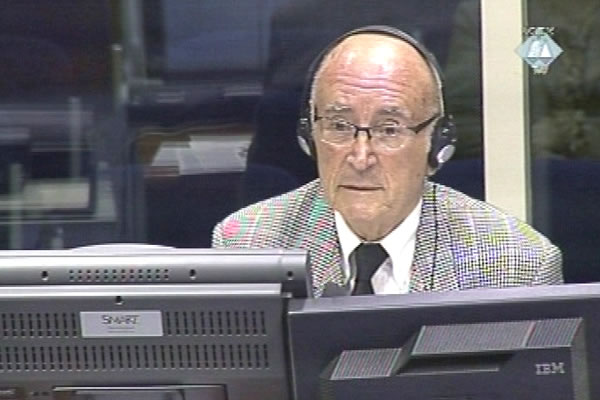 Vojislav Vukcevic, defence witness at Goran Hadzic trial
Vojislav Vukcevic, founder of the Serbian Democratic Party in Baranja, continued his testimony today. According to Vukcevic, his former party colleague and prime minister of the SAO Eastern Slavonia Goran Hadzic was 'a moderate' who favored compromise and co-existence with Croats. Unlike Hadzic, Milan Babic belonged to the party faction that 'received energy from Slobodan Milosevic'.
The Serbian National Council for Slavonia, Baranja and Western Srem decided on 31 March 1991 that Vukcevic 'could no longer represent the Serb nation or take part in any talks on its behalf with the Croats' because of his moderate views. Vukcevic said that he learned about the ban in an article published in the newspaper Politika on 1 April 1991. Faced with the accusations that he was 'too soft' and the pressure of 'lies, defamation and fabrications', Vukcevic handed in his resignation from all posts in the SDS on 24 April 1991. Vukcevic spoke about his resignation in the NIN magazine and 'accused the lobby of the Serbs from Croatia in Belgrade' for the lies and pressure.
In his testimony, Vukcevic spoke about the 'menacing' statements made by politicians from both sides. It was caused by 'aggressive behavior, disturbed minds and crazy times'; no one knew whether they 'would live to see the next day', Vukcevic explained. According to Vukcevic, Goran Hadzic 'came from a placid environment' and from 'a proper neat family'. As a result of his upbringing he could not become a 'disorderly man, with a disordered mind or dirty shoes'. According to Vukcevic, Hadzic was 'well-groomed, well-fed, well-dressed and had everything he needed. He could not become a spiteful, mean or bad man'.
Vukcevic claimed that Hadzic showed 'civil disobedience' towards Slobodan Milosevic. This prompted the prosecutor to show a statement from March 1993 in which Hadzic describes Milosevic as the 'biggest politician alive'. Vukcevic said 'I know what Hadzic said, but I don't know what he meant'. 'One should not look for sense in every word', Vukcevic added, noting that 'people don't want to hear the truth because the truth hurts'.
The prosecutor showed Vukcevic's interview to the magazine Vreme from 1996. In the interview Vukcevic accuses Goran Hadzic and the Eastern Slavonia leadership of making 'ill-considered statements and acts'. Today, Vukcevic couldn't remember what he had had in mind.
Vukcevic confirmed that he had received threats from Vojislav Seselj and Milan Paroski. As he explained, Seselj and Paroski publicly 'competed who would use fouler words' about Vukcevic. Vojislav Seselj is scheduled to testify as Goran Hadzic's next defense witness.