Home
HADZIC DENIES CLAIMS MADE BY PROSECUTION WITNESSES
For the most part of his testimony in his own defense on Friday, Goran Hadzic contested the evidence of Borivoj Savic, his former brother in arm and a member of the same political party. Savic claimed that Hadzic was responsible for the outbreak of the war in Eastern Slavonia. According to the accused, Savic's testimony was a 'lie, fantasy, nonsense, shame…'. Savic and Hadzic were arrested in Plitvice in 1991. Since then, Savic has 'gone mad', Hadzic explained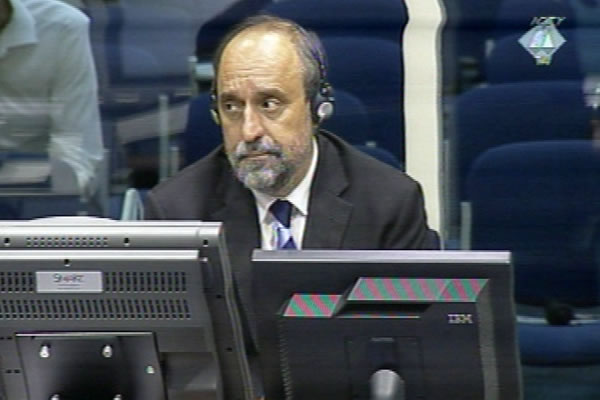 Goran Hadzic testify in his own defence
On the second day of his testimony in his own defense, Goran Hadzic tried to contest the testimony and credibility of prosecution witness Samira Baranjek and his wartime friends and fellow party members Borivoje Savic and Veljko Dzakula. Hadzic is on trial for crimes against humanity and war crimes committed while he was first the prime minister of the Serb Autonomous Region of Eastern Slavonia and later the president of the Republic of Serbian Krajina.
At the beginning of his evidence, Hadzic indirectly contested the testimony of Samira Baranjek. In her evidence, she said that Hadzic had visited her husband in an atelier where they 'looked at paintings and read poetry'. In her evidence in the prosecution case, Baranjek claimed that she had spoken with Hadzic in the primary school in Borovo Selo on 19 and 20 November 1991. According to Baranjek, Hadzic asked about her husband, whose body, as Baranjek later learned, had been taken out of the interrogation room wrapped in a 'bloody blanket'.
Hadzic denied that he wrote poetry. According to Hadzic, he read poetry 'only with girls, never with men'. Also, Hadzic explained that he liked 'renowned foreign and Croatian poets such as Lorca or Ujevic, not amateurs'. Since the witness claimed that Hadzic wore a beard, the accused stated that he let his beard grow after the Croatian Democratic Union won the 1990 elections. The defense argued that the witness had mixed Hadzic up with the poet Branko Kovacevic who resembled the accused.
Borivoje Savic's testimony upset Hadzic particularly badly. Savic claimed that the accused was loyal to Slobodan Milosevic and that as a representative of the 'radical wing', Hadzic was responsible for the outbreak of the war in Eastern Slavonia. As he described Savic's mental health, Hadzic said that he 'went mad' after they were arrested together in Plitvice on 31 March 1991. Hadzic went through Savic's testimony sentence by sentence, contesting Savic's allegations qualifying them as 'madness…fantasy…random and stupid claims…nonsense…lies…shame…stupidity'. Hadzic also argued that Jovan Raskovic, founder of the Serbian Democratic Party in Croatia, was never close to Milosevic. Both Raskovic and Hadzic advocated the 'peaceful option' in that political party. In Hadzic's words, Dzakula, another witness who testified against him for the prosecution, was 'the most extremist Serb' he knew.
As his testimony continued, Hadzic spoke about the situation in the SDS in the early 1991 and about the meeting in Obrovac. At the meeting, there was a clash between those advocating 'Raskovic's option' – continued negotiations with Croatia – and those from Knin, who were in favor of Babic's 'radical option'. Hadzic also mentioned his arrest at Plitvice the day after the Obrovac meeting. Hadzic described in great detail how after the meeting Savic and he decided to go back to Vukovar, spent the night at Plitvice only to wake up the next morning surrounded by the Croatian police. They were arrested and beaten up so badly that he, as Hadzic put it, 'peed blood for the next two months'. After his arrest, he found himself in the political limelight, Hadzic explained.
Hadzic was in a good mood and shared two anecdotes with the judges. He recounted how after Hadzic was elected president of the SDS municipal board, his father asked him what his salary would be. When Hadzic explained to his father that he worked there as a volunteer, pro bono, his father told Hadzic that was why he was elected. Otherwise, Hadzic's father noted, they would have elected some professor. The second of anecdote pertained to Borivoje Savic, who was the focus of so much attention today. Before their arrest, when they were surrounded in the hotel in Plitvice, Savic decided to take a bath. When Hadzic asked why, Savic purportedly replied, 'I want to die clean'. Hadzic will continue his evidence on Monday.