Home
KARADZIC WANTS MILDER SENTENCE BECAUSE OF HIS 'AGREEMENT' WITH HOLBROOKE
Having failed in his attempt to use the purported agreement with Richard Holbrooke to terminate the proceedings against him for double genocide and other crimes in BH, now Karadzic wants the judges to accept the agreement as a mitigating circumstance in sentencing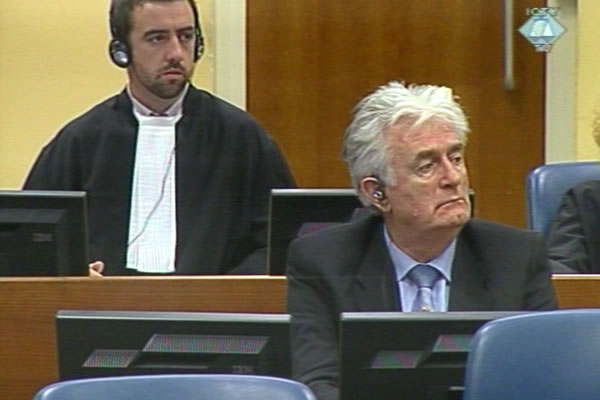 Radovan Karadzic in the courtroom
Since his initial appearance before the Tribunal in July 2008, former Republika Srpska president Radovan Karadzic has been trying to have the proceedings against him terminated on the basis of the purported agreement on immunity he had reached with Richard Holbrooke, former US secretary of state, in July 1996. This ploy has failed and now Karadzic wants the agreement to be accepted as a mitigating circumstance in sentencing if the Trial Chamber finds him guilty.
Karadzic argues that the Tribunal's jurisprudence shows that the character and the acts of the accused after the conflict could be taken in mitigation in the sentencing stage. In the case against Dario Kordic, Karadzic recalls, the Appeals Chamber took into account the fact that he had voluntarily stepped down from all his political functions. In the cases against Milan Babic and Biljana Plavsic, the Appeals Chamber similarly took into account their peace efforts as a mitigating circumstance in sentencing. That, purportedly, had in fact been the gist of the gentlemen's agreement with Holbrook in July 1996: Karadzic stepped down as the Republika Srpska president and retired from public and political life in exchange for immunity from criminal prosecution. Karadzic believes that he thus contributed to the implementation of the Dayton Agreement. Consequently, it should be accepted as a mitigating circumstance in his case.
Karadzic urges the judges to admit into evidence not only exhibits showing he resigned all his functions, but also those that show the circumstances under which he did it. The prosecution can argue that his resignation carries no weight because it was 'forced'. That, however, doesn't imply that the evidence of the purported agreement should be dismissed, Karadzic argues.
In Karadzic's view, accepting the Holbrooke agreement as a mitigating circumstance would be a 'legal remedy' for the violation of his rights. Karadzic contends that he has the right to a milder sentence because he has relied on the agreement that promised he would not face criminal prosecution if he stepped down. Karadzic had fulfilled his part of the bargain which ended up harming him, as the Tribunal has refused to honor it.
The former Republika Srpska president is charged with double genocide and other crimes in Bosnia and Herzegovina. If he is found guilty, he could face the harshest sentence, life imprisonment.