Home
SERB AUTHORITIES AND KORICANSKE STIJENE CRIME
Vladimir Glamocic, former president of the Knezevo Executive Board, claimed at Karadzic's trial that the authorities hadn't covered up the crime at Koricanske Stijene. Everybody was revolted and unanimous that the perpetrators should be punished. The prosecutor argued that the authorities' attitude towards the crime was reflected in the fact that the mass graves containing the victims' remains were discovered in 2009, after one of the culprits confessed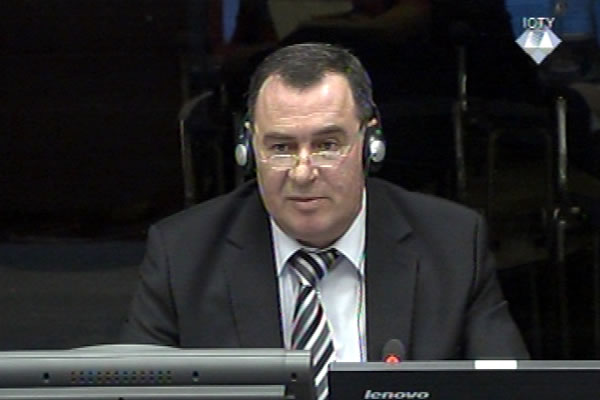 Vladimir Glamocic, witness at the Radovan Karadzic trial
Former Republika Srpska president Radovan Karadzic is charged, among other things, with the massacre of about 200 Muslims at Koricanske Stijene on 21 August 1992. The massacre was committed by the Prijedor Police Intervention Squad. In a bid to distance himself from the crime, Karadzic called Vladimir Glamocic as his witness. Glamocic was the war-time president of the Skender Vakuf Executive Board. After the Serbs seized power in 1992, Skender Vakuf was renamed Knezevo.
In his statement to the defense Glamocic said that in the morning of 23 August 1992 Karadzic called him on the phone. Karadzic was angry and asked Glamocic who was responsible for the crime at Koricanske Stijene. Later that day, as Glamocic recounted, Milan Komljenovic, president of the Knezevo Crisis Staff, informed him that the crime had been committed by the Prijedor police. At a meeting with RS defense minister Bogdan Subotic it was decided that the Prijedor authorities would take care of 'the clean-up', i.e, would recover the victims' bodies. Also, the victims were to be identified and their cause of death established.
In the cross-examination, the prosecutor brought up the evidence of Colonel Bosko Peulic, who commanded a brigade in the 1st Krajina Corps. As he testified in the BH Court, Peulic refused to allow his soldiers to participate in the effort to recover the bodies. In Peulic's opinion, 'genocide' was committed at Koricanske Stijene and he didn't want to be an 'accomplice' in it. Glamocic confirmed that Peulic had refused to cooperate in the recovery of the bodies, but didn't agree with the prosecutor's suggestion that the Serb authorities had tried to cover up the crime. Everybody was revolted by the crime and unanimous that the perpetrators should be punished, Glamocic said.
The prosecutor argued that the footage showing the removal of the bodies from the ravine was a true reflection of what the Serb authorities really felt about the crime. The bodies were treated like garbage: this was not an appropriate way to treat the bodies of victims. The witness agreed with the suggestion. Noting that in September 1992 only four bodies were pulled out of the ravine, the prosecutor asked Glamocic how come he wasn't concerned about the public health, as the residents complained about the terrible stench and feared the infection as the birds took pieces of the dead bodies, leaving them on the roofs.
Glamocic managed to avoid answering the prosecutor's questions. The 'clean-up' began on 4 September 1992, Glamocic explained, adding that the operation soon stopped when the crane used to lift the bodies out of the ravine broke down. The witness learned later what happened to other bodies from the media, but couldn't remember when it was. The prosecutor reminded Glamocic that Damir Ivankovic, who participated in the massacre, pleaded guilty and disclosed in 2009 the locations of the mass graves where victims from Koricanske Stijene were buried.