Home
KARADZIC WANTS ONE YEAR TO PREPARE HIS FINAL BRIEF
Arguing that the preparation of the final brief was a big endeavor for a small defense team, Karadzic wants the judges to give him a year to draft it: he needs to go through 48,000 pages of transcripts, 11,000 exhibits, again as many briefs and motions, 2,300 adjudicated facts and the testimony of about 600 witnesses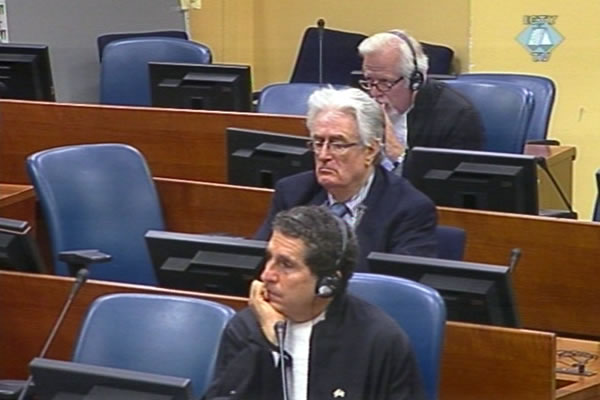 Radovan Karadzic in the courtroom
Former Republika Srpska president Radovan Karadzic, charged with double genocide and other crimes in Bosnia and Herzegovina, has asked the judges to give him one year to prepare his final brief, from the moment the last witness is heard. In support of his demand, Karadzic quoted the report submitted by Theodor Meron, the Tribunal's President, to the UN Security Council, where Judge Meron stated that, given the complexity of the case, the parties would need more time to prepare their final briefs. In Karadzic's case, this will delay the delivery of the judgment, Meron said.
In Karadzic's view, the only case comparable to his case in terms of complexity is the trial of the six former Herceg Bosna leaders. The record in that case contains more than 50,000 pages of transcripts, and over 10,000 exhibits. The defense teams in that case were granted nine months to produce the final briefs, but the burden was shared by six defense teams.
As Karadzic notes, his trial has been going on without a break since March 2010. The record now contains 48,000 pages of transcripts, 11,000 exhibits, again as many briefs and motions, 2,300 adjudicated facts and the testimony of about 600 witnesses. Karadzic has to go through all that material and analyze 'complex' charges against him, contained in 11 counts of the indictment. The indictment alleges Karadzic's involvement in four separate joint criminal enterprises, 259 individual incidents, numerous murders, infliction of bodily harm, destruction of property and forcible transfer. Finally, Karadzic notes he is expected to submit a concise and clear final brief in response to the 'complex' accusations against him and to do all that 'alone, with the help of a small defense team'. This is why he needs one year to prepare the final brief.
Presiding judge Kwon has repeatedly warned Karadzic that he will not grant him any additional time to call evidence and examine the witnesses just because Karadzic is self-represented. It remains to be seen if Judge Kwon would take the same position vis-à-vis this request.