Home
PROSECUTION ASKS FOR RECONSIDERATION OF PERISIC JUDGMENT
The prosecution has called on the Appeals Chamber to reject the standard of 'specific direction' and to apply a correct legal standard in the reconsideration of the judgment in which Momcilo Perisic, former chief of the Yugoslav Army General Staff, was acquitted of aiding and abetting crimes in Sarajevo and Srebrenica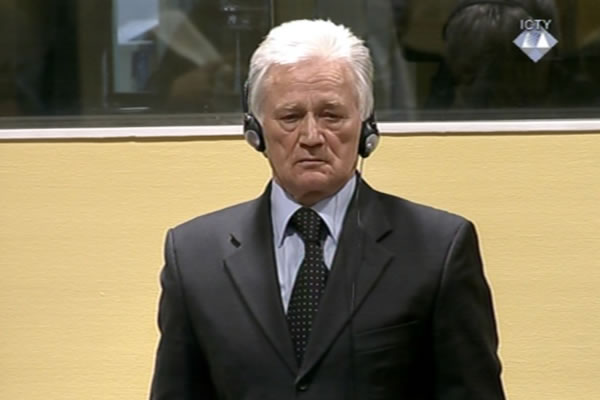 Momcilo Perisic in the courtroom
The Appeals Chamber must reconsider the decision to acquit Momcilo Perisic of aiding and abetting crimes committed in Sarajevo and Srebrenica from June 1993 to November 1995, the Office of the Prosecutor states in a motion made public on Monday. In March 2013, the former Chief of the Yugoslav Army General Staff was acquitted of aiding and abetting those crimes and his sentence was overturned. The Trial Chamber sentenced Perisic to 27 years in prison.
The prosecution argues that the reconsideration was necessary to 'rectify the grave injustice caused to the tens of thousands of men, women and children killed or injured by the application of an erroneous legal standard'. The motion for reconsideration is justified, in the prosecution's view, by the recent judgment in the Kosovo Four case, where the Appeals Chamber found that the judges in the Perisic case erred when they sought 'for the first and last time' the evidence of 'specific direction' to commit the crimes as an element of aiding and abetting. In the Kosovo Four case, the Appeals Chamber concluded that the specific direction standard was 'contrary to the Tribunal's consistent jurisprudence and customary international law'.
The prosecution recognizes the fact that the reconsideration of the judgment is an 'extraordinary measure' but at the same time it is a chance to redress 'extreme injustice'. The motion notes that judges Meron and Shahabuddeen have admitted in previous cases that there may be 'rare and exceptional cases' that fall outside of an appeal or review process and which would justify reconsideration to prevent a manifest miscarriage of justice. In Judge Shahabuddeen's words, the 'door to the correction of a clear miscarriage of justice should be held open in an institution with the mission of bringing international criminal justice to a region which needs it'.
In the statement, Chief Prosecutor Serge Brammertz noted that 'reconsidering the Perisic Appeal Judgment will help secure justice for the victims, which is the key objective of my Office, the Tribunal and international criminal justice as a whole'.
With its decision in the Kosovo case, 'the Appeals Chamber demonstrated its independence, impartiality and capacity for critical reflection strengthening the international justice system and the rule-of-law. The Office of the Prosecutor has now requested the Appeals Chamber to take the next necessary step to remedy the confirmed error by reconsidering the Perisic appeal judgment and deciding on Perisic's criminal responsibility for aiding and abetting the crimes in Sarajevo and Srebrenica on the basis of the correct legal standard'. The prosecution has also asked the Appeals Chamber to apply the correct legal standard in its consideration of the remaining grounds of appeal which were filed by Perisic and denied when he was acquitted of aiding and abetting.