Home
INVESTIGATOR AND PRIJEDOR 'GRAPEVINE'
Former investigator in Keraterm Dragan Radetic claimed at the trial of Radovan Karadzic that prisoners were not verbally and physically abused in the prison camp, at least at the beginning. He served in the camp for about 15 days as an investigator: in that period, Radetic didn't see anything out of the ordinary. He heard about the crimes, including the Room 3 massacre, on the grapevine in Prijedor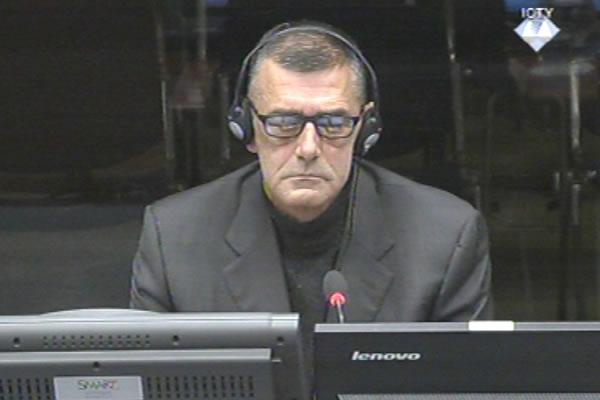 Dragan Radetic, witness at the Radovan Karadzic trial
Dragan Radetic testified at the trial of Radovan Karadzic. In May 1992, Radetic served as an investigator in the Keraterm prison camp in Prijedor. He went on to work as an expert in the Military Court and the Military Prosecutor's Office in Banja Luka. According to the summary of Radetic's written statement to the defense, he 'never heard or saw anyone from the Serb political, military or police leadership plan the ethnic cleansing of the non-Serb population'. Muslims left Prijedor 'for the simple reason: the basic living conditions were non-existent'.
At the beginning of the conflict, Radetic was a soldier, serving in the military police of the VRS 43rd Brigade. In late May 1992, Radetic was ordered to report to Keraterm and 'monitor the work of the commission' that interviewed the detainees. Radetic claimed that his job was to establish if there were any elements of crimes in the statements of the Prijedor residents detained in the camp. In about 15 days he spent in Keraterm, the prisoners were not verbally or physically abused, Radetic claimed. Radetic didn't see any injured people and did not hear any screams of the prisoners in the camp.
Radetic said that he 'heard it on the grapevine' in the town that individuals would enter Keraterm during the night and beat the prisoners. He informed the superior command about it. The prosecutor stressed that the command of the 43rd Brigade was located across the road from Keraterm. No measures were taken against those who committed the crimes. This included the Room 3 massacre in Keraterm in which about 150 persons were killed on 24 July 1992, prosecutor Ann Sutherland noted.
Radetic agreed that the military police failed to conduct the investigations against the individuals who entered the prison camp. When the Room 3 massacre happened, Radetic wasn't in town. His knowledge of the incident was based on the grapevine: he heard that some persons were killed trying to escape. In Radetic's view, the main problem for the military police was the fact that the military court wasn't established until September or October 1992. As a result, the police were obliged to release people from custody after 72 hours. Radetic didn't explain, and nobody asked him, why the Muslims from Prijedor who were detained in the camps were not released on the same grounds.
The prosecutor noted that the military court in Banja Luka was up and running in August 1992, and the military prosecutor's office in July 1992.She also brought up a report drafted by Dusko Sikirica about the crimes committed by Zoran Zigic and several uniformed persons in Keraterm. Zigic was then arrested twice for extorting money from the Muslims detainees only to be released both times. He was sentenced to 26 years in prison after his third arrest for the murder of a Serb woman. Radetic replied that he couldn't draw any conclusions from those facts.