Home
'VOLUNTARY DEPORTATION'
Vinko Nikolic, Karadzic's first witness in 2014, claims that Muslims from Sanski Most decided 'voluntarily' to leave, and that 'competent Serb bodies had to help them do so'. The prosecution alleges that, as the result of their 'help', only 3,350 Muslims – out of a pre-war population of 28,000 Muslims – remained in Sanski Most by February 1995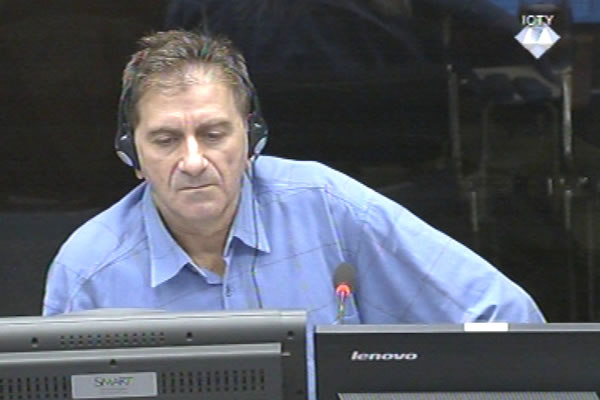 Vinko Nikolic, witness at the Radovan Karadzic trial
The trial of Radovan Karadzic resumed after the Tribunal's winter break with the evidence of Vinko Nikolic from Sanski Most. Nikolic is a former member of the Serb municipal Crisis Staff.
In his statement to Karadzic's defense, Nikolic said that the Muslims rejected the Serbs' peace proposal to carve up the municipality, which meant that they 'opted for conflict and war'. On the other side, the Serb authorities, police and army 'didn't plan, instigate or order a permanent elimination of Bosnian Muslims from that area as evidenced by the large number who continued to live in Sanski Most up until 1995', the witness claimed.
The witness also said that more than 8,000 Muslims stayed in Sanski Most until the end of the war. Prosecutor Bronagh McKenna noted that there had been 28,000 Muslims living in the territory of the Sanski Most municipality according to the 1991 census. Only 3,350 of them remained by February 1995, as shown by the census carried out by the Serb authorities.
The witness claimed that the Muslims decided 'voluntarily' to leave Sanski most and that the competent Serb bodies were 'obliged to help them do that'. This prompted the prosecutor to quote from the diary of Dragan Davidovic, a local Serb official. Davidovic wrote that on 8 June 1992 the Crisis Staff decided that 'Muslims and Croats should be evacuated until their numbers have been reduced to the level where power can be maintained'. Two days later, the Crisis Staff concluded that the 'job of deporting a part of the population failed'.
The prosecutor also mentioned the attacks of the Serb forces on the Muslim villages in the Sanski Most area in April 1992 and the shelling and burning down of Muslim houses. Many civilians were killed and thousands were arrested and transported to Manjaca in those attacks. Also, the prosecutor recalled that a large group of prisoners suffocated on the way to the prison camp because the truck they were in was overcrowded and there was not enough air. It was Nikolic, as the Crisis Staff member in charge of transport, who chose the vehicles to transfer the prisoners.
In addition to being a member of the Crisis Staff, Nikolic was also in the SOS – the Serb Defense Forces. According to the documents produced by the Serb authorities, the SOS participated in the attacks on Muslim villages, murders, arrests of civilians, arson, looting and the destruction of mosques and other religious buildings. The witness denied that he was involved in any such crimes arguing that his unit was on the front line when the crimes were committed.