Home
BEARA BLAMES RS POLICE FOR SREBRENICA
Former chief of security in the VRS Main Staff Ljubisa Beara blamed the Republika Srpska police for the genocide in Srebrenica. The accused Radovan Karadzic was the supreme commander of both the police and the Bosnian Serb army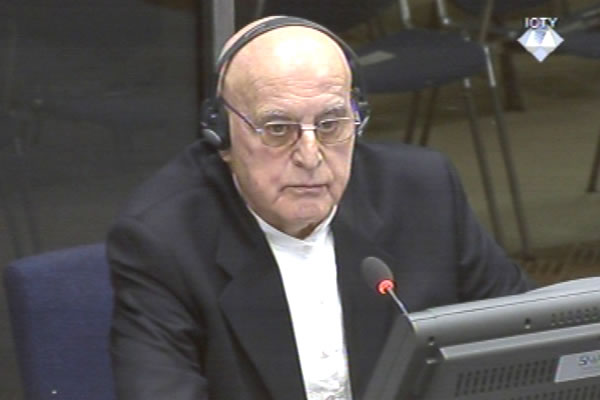 Ljubisa Beara, witness at the Radovan Karadzic trial
Ljubisa Beara, former chief of security in the Republika Srpska Army Main Staff, returned to The Hague to complete his evidence at the trial of Radovan Karadzic. He was cross-examined by the prosecution. The Trial Chamber sentenced Beara to life for the genocide in Srebrenica.
Beara began his testimony of 17 December 2013. He had initially refused to testify in Karadzic's defense, and the Trial Chamber had to issue a binding order to compel him to testify. As he answered the questions asked by the former supreme commander of the RS armed forces, Beara several times invoked his right not to answer potentially incriminating questions. The Trial Chamber ordered the witness to respond, guaranteeing that the answers wouldn't be used against him. Beara answered the questions in closed session.
Prosecutor Melissa Pack recalled one such question, asked by Karadzic in December 2013, that Beara refused to answer. The prosecutor read out the question 'Did you during the war write or read any VRS documents stating that the prisoners from Srebrenica would be, were being, or had been executed'. She did it in open session. The trial went into closed session for Beara's answer.
When the hearing resumed in open session, Beara didn't speak about the VRS documents. He spoke about a document written by the former chief of the Public Security Center, Dragomir Vasic. As Beara explained, in the document Vasic informed the interior minister that because 'the VRS was continuing operations towards Zepa, all other work was left to the MUP'. The police 'surrounded and killed 8,000 Muslims'. Beara said that the document was available during his trial but later 'got lost miraculously'. He ended up being blamed for the murders instead of Vasic.
The prosecutor didn't say anything about the origin and the fate of the document. Obviously, the former chief of security in the VRS Main Staff wanted to shift the blame for the crimes he was convicted of on the RS police: they too acted under Radovan Karadzic's supreme command. The prosecutor asked the witness if he denied that the 'Bosnian Serbs killed thousands of men systematically after the fall of Srebrenica'. Beara replied that he 'cannot deny the terrible things that happened in the civil war, the religious war' which was a 'curse, not warfare'. Beara added that in some mysterious way 'the three men from the VRS security service ended up shouldering all the blame'.
Radovan Karadzic didn't have any additional questions for Ljubisa Beara. At the end of Beara's testimony, the judges decided to unseal parts of his evidence in closed session, which will be made public later.