Home
BREAK IN RATKO MLADIC'S TRIAL
Reynaud Theunens was the last witness called by the prosecution at the trial of the former VRS Main Staff commander Ratko Mladic for double genocide and other crimes in BH. The hearing on the defense motion to acquit the accused at the half-time of the trial has been scheduled for late February 2014. The prosecution's case is expected to resume in March 2014, and the defense case will probably begin in May 2014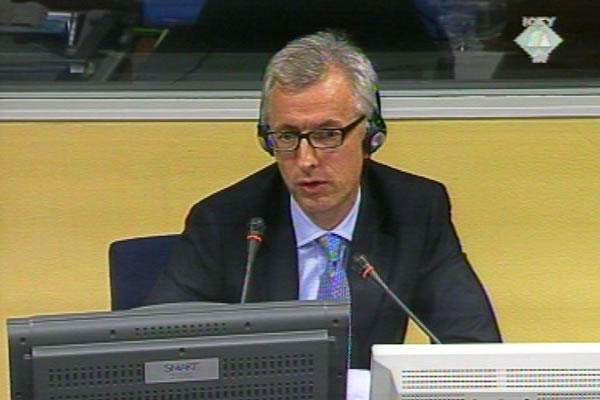 Reynaud Theunens, witness at the Ratko Mladic trial
In the last part of his evidence, prosecution military and intelligence expert Reynaud Theunens was examined at length by the prosecution, the defense and the judges about the relationship between the Bosnian Serb army and police with Zeljko Raznatovic Arkan's unit. Theunens was asked by the prosecution to write an expert report on the role of the commander of the Republika Srpska Army Main Staff, Ratko Mladic.
In the cross-examination the defense counsel first showed a letter from September 1995 in which Mladic asked Karadzic to get rid of Arkan. Mladic also urged the MUP to take steps to stop Arkan's men who were committing crimes against Bosnian Muslims in Sanski Most. In another document from July 1992, Mladic ordered that paramilitary units be disarmed, that crimes be investigated and perpetrators punished. The defense counsel used the documents to argue that Mladic intended to get rid of the paramilitary formations but wasn't able to do it.
In the re-examination, the prosecutor showed an order issued by the police minister Tomislav Kovac in October 1995. According to Theunens, the order shows that the VRS Main Staff and the RS MUP cooperated. The document states that an agreement had been reached with Manojlo Milovanovic, chief of the Main Staff, to use Arkan's men to arrest the deserters and to return them to their brigades. Although it was not specified on whose orders Arkan operated, the document notes that the VRS Main Staff 'tolerated' Arkan's men, Theunens explained.
The prosecutor tried to contest the defense's argument that Mladic had helped the implementation of the Vance Plan for Krajina in early 1992 when he was the commander of the former JNA 9th Corps. The Vance Plan envisaged the disarming of all units; the police were supposed to carry only sidearms. Theunens confirmed that a series of documents showed that Mladic intended to continue mobilizing and equipping the MUP and the Krajina Territorial Defense units from February to April 1992.
Reynaud Theunens is the 146th and the last witness called by the prosecution. The prosecution has taken a little more than 200 hours to present its case. The parties will reconvene again in the last week in February 2014. The defense will present its arguments under Rule 98 bis. The rule allows the defense to call for the acquittal of the accused on counts in the indictment for which the prosecution, in the defense's view, has failed to call sufficient evidence that would lead to a conviction, if uncontested. If the Trial Chamber rejects the motion, the defense will continue with the preparations for its case, slated to begin in May 2014. If the prosecutor re-opens its case, as indicated, in March 2014 to call additional evidence on the exhumation of the mass grave in the Tomasica mine near Prijedor, defense counsel Lukic announced he would request for one more month to prepare the defense case.