Home
PROSECUTION RESTS ITS CASE, MLADIC'S DEFENSE CASE TO BEGIN ON 13 MAY 2014
The scheduling order issued by the Trial Chamber in the case against Ratko Mladic marked the end of the prosecution case. A 98bis Rule hearing is slated for 17, 18 and 19 March 2014. The judges will hear the arguments on the defense motion to acquit the accused on the counts in the indictment for which the prosecution has failed to call sufficient evidence. The defense case is scheduled to begin on 13 May 2014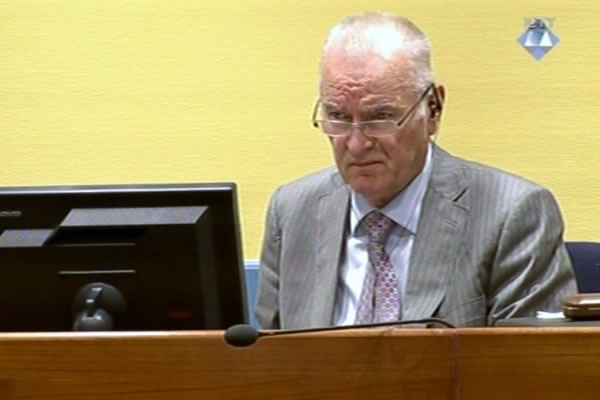 Ratko Mladic in the courtroom
Two days ago, the prosecution indicated there wouldn't be any additional evidence in the case against Ratko Mladic. The Trial Chamber formally stated that the prosecution rested its case. The same decision specifies the schedule for the further course of the trial of the former commander of the VRS Main Staff. Ratko Mladic is charged with double genocide and other crimes in the war in BH.
A Rule 98bis hearing will take place from 17 to 19 March. The rule grants the accused the right to seek acquittal on some or all counts in the indictment if, in his view, the prosecution has failed to call sufficient evidence that could, if unchallenged, lead to a conviction.
The defense will then be given time to prepare for its case. The defense must submit the witness and exhibit lists by 28 April 2014 and to disclose the evidence it intends to rely on to the prosecution by 5 May 2014. On 12 May 2014 there will be a pre-defense conference. A day later, on 13 May 2014 the accused Mladic will call his first witnesses.
The prosecution took more than 200 working hours to call its evidence, examining a total of 146 witnesses. Ratko Mladic was arrested on 26 May 2011 and his trial began on 16 May 2012.