Home
DEFENSE CONTESTS EXPERTISE OF PROSECUTION'S WITNESS
As Ratko Mladic's defense counsel continued cross-examining the prosecution military intelligence expert Reynaud Theunens, he claimed Theunens lacked experience to assess the role of Ratko Mladic as the VRS Main Staff commander. Theunens replied that, in his view, his experience and education made him qualified to draw conclusions about Mladic's command role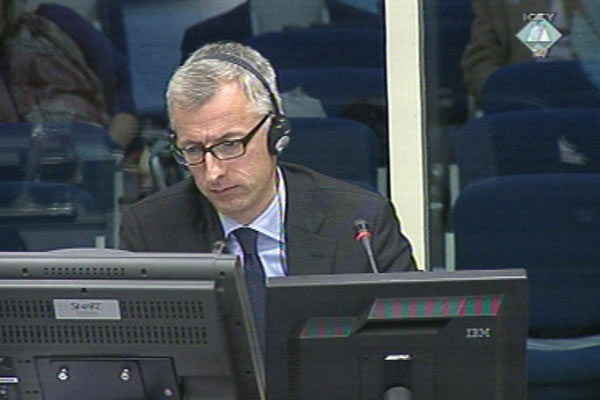 Reynaud Theunens, witness at the Ratko Mladic trial
As the cross-examination of the prosecution military and intelligence expert continued, Ratko Mladic's defense counsel contested Reynaud Theunens's expertise. Theunens had been asked by the prosecution to write an expert report on the powers and responsibilities of Ratko Mladic as the commander of the VRS Main Staff.
As the defense lawyer noted, Theunens never rose higher in the Belgian Army ranks than company leader, never had more than 80 people under his command and performed this duty seldom. The defense counsel put it to Theunens that his experience and expertise were insufficient to evaluate Mladic's role as the Main Staff commander. Theunens countered by saying that both his education and experience made him qualified enough to draw conclusions about Mladic's role as the deputy commander of the JNA 2nd Military District and the Main Staff commander. It will, of course, be up to the Trial Chamber to decide whether the experience and the reasoning he used in the report make him acceptable as an expert, Theunens said.
When the defense counsel asked Theunens if he had taken part in the meetings or offered advice pertaining to the indictment or the examination of witnesses, Theunens said that he made recommendations to the OTP as to the correct and appropriate military terminology to be used in the indictments. Also, at least once he asked 'witnesses or suspects' direct questions and offered the OTP staff advice.
At the end of the hearing, the defense counsel noted that the Republika Srpska Army was poorly staffed. Theunens confirmed that the Bosnian Serb army documents speak about the shortage of officer cadre. However, in Theunens's view, that didn't affect command and control.
Reynaud Theunens, the last prosecution witnesses in the Mladic case, will continue and most likely complete his evidence tomorrow.