Home
JUSTIFYING THE SHELLING OF SARAJEVO
As the cross-examination of Emir Turkusic continued today at Ratko Mladic's trial, his defense tried to prove that the shelling of Sarajevo was legitimate. Turkusic is a former employee of the Anti-Sabotage Department in the BH Interior Ministry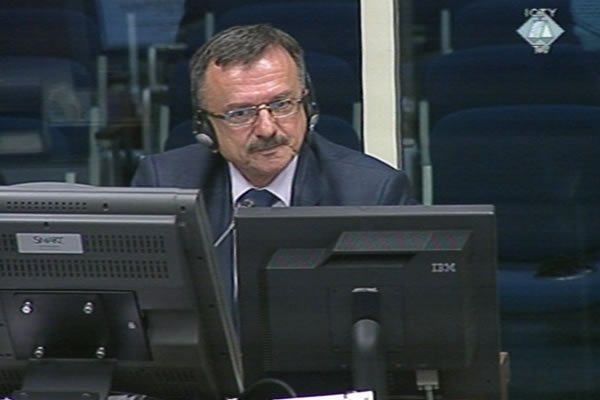 Emir Turkusic, witness at the Ratko Mladic trial
As the cross-examination of Emir Turkusic continued today at Ratko Mladic's trial, his defense tried to justify the shelling of Sarajevo and to prove that it was in fact legitimate. Turkusic is a former employee of the Anti-Sabotage Department in the BH Interior Ministry.
Mladic's defense claims that the Markale incident that happened on this day, 18 years ago, was one of the 'legitimate' actions of the troops under Mladic's command. As the indictment alleges, 43 people were killed and 75 injured in the explosion of a 120 mm mortar shell fired from the VRS positions on Mount Trebevic.
Mladic's defense counsel Branko Lukic put it to Turkusic that there were 2,000 legitimate military targets in the part of Sarajevo controlled by the BH Army. One of them was the Svjetlost building, in the immediate vicinity of the Markale market.
Turkusic confirmed that the Svjetlost building was some fifty meters away from Markale, but did not accept the criteria put forward by the defense as to which facilities could be considered as legitimate military targets. It was clear from the defense's questions, the witness noted 'that the defense considers the citizens of Sarajevo to be legitimate military targets'.
According to the defense, the citizens of Sarajevo were either collateral damage in the shelling of legitimate military targets by the Serb forces, or were in fact shelled by the Bosnian government forces, as the defense argued again today.
According to the defense, the fact that the police came and warned the citizens about impending artillery attacks just before the incidents happened clearly proves that the government had a hand in orchestrating those incidents. This, as defense counsel Lukic said, goes for all the incidents listed in the indictment against Mladic that happened in Dobrinja: the shelling of a football match on 1 June 1993, the shelling of a water queue on 12 July 1993, and the shelling of the humanitarian aid queue on 4 February 1994.
The defense will continue cross-examining Emir Turkusic tomorrow.