Home
'INSANE' THEORIES ABOUT CAUSE OF MARKALE EXPLOSION
Former employee of the Anti-Sabotage Department in the BH Interior Ministry has labeled 'insane' the theory put forward by Ratko Mladic's defense according to which the incident at Markale on 28 August 1995 was caused by setting of a stationary explosive device planted there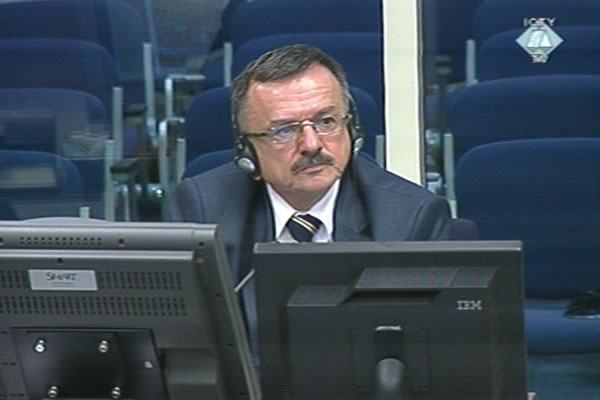 Emir Turkusic, witness at the Ratko Mladic trial
Former employee of the Anti-Sabotage Department in the BH Interior Ministry Emir Turkusic testifies at Ratko Mladic's trial about the results of the investigations into the various shelling incidents in Sarajevo. He took part in those investigations during the war. One of the incidents he investigated was the shelling of Markale market on 28 August 1995, in which 43 people were killed and 75 injured.
As his evidence continued, he said that he was midway between his office and the market when the explosion occurred. After he saw a convoy of vehicles 'careening' through the streets as they drove the dead and the wounded to the hospital, he and his colleagues headed towards the scene and carried out a crime scene investigation, in the presence of the UNPROFOR staff.
Turkusic and his team were able to establish at the scene that the round was a 120 mm shell manufactured in the Krusik defense industry in Valjevo in July 1993. They were also able to determine the angle of impact of the shell. This and other physical evidence made it possible for them to determine that the shell had been fired from the direction of Mount Trebevic, which was controlled by the VRS. Mladic's defense is trying to prove that the other side was responsible for the explosion, putting it to the witness that the explosion could have been caused by a stationary explosive device that had been planted there and set off.
In response to defense counsel Lukic's question, Turkusic said he and his team did not probe this scenario at all. 'We abhor such speculations', the witness said, adding that the very idea was 'insane'. He explained to Judge Orie that it never occurred to him and his colleagues to see if it was possible because nothing at the scene indicated that a planted explosive device had gone off there.
Emir Turkusic's evidence will be completed tomorrow.