Home
MLADIC WANTS WEDNESDAYS OFF
If the judges want Ratko Mladic to be polite in court and not respond furiously without 'short circuiting', they should agree to his request for a four-day working week, as his defense put it in the motion to the Appeals Chamber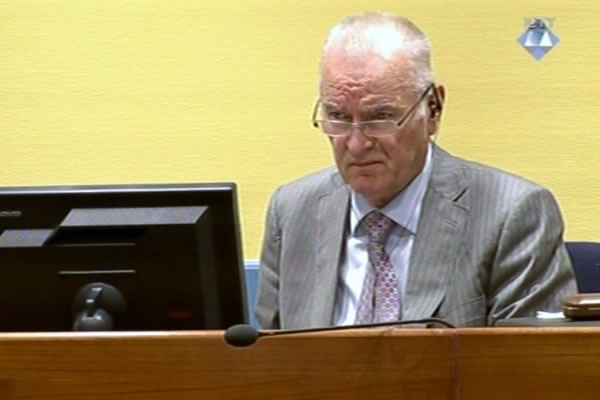 Ratko Mladic in the courtroom
Ratko Mladic's defense has filed a motion to the Appeals Chamber asking the judges to quash the decision made by Judge Orie's Trial Chamber that established a five-day working week at Mladic's trial. The motion was prompted by an incident last Friday when Mladic felt faint and dizzy because of a drop in his blood pressure caused by weight loss. The judges had to adjourn the trial until Monday. The defense has already asked the Trial Chamber to reduce the number of working days in January, but the Chamber rejected it.
The defense recalls that when it filed a motion for the suspension of Mladic's trial in April, a team of doctors from Serbia examined the accused and concluded that his emotional state causes 'furious and sudden responses', similar to a 'short circuit'. The accused had a low tolerance to stimuli and had a tendency to respond to them 'here and now'. Added to all this, as the doctors note in their report in April, is his reduced ability to refrain from responding and to control them rationally. In short, the emotional sphere of his personality has been 'deconstructed, diffused and effectively beyond rational control'. They recommended that the working day do not exceed four hours and that there be at least one day off after two working days.
At one point in the trial, Mladic's 'short circuits' were a regular occurrence; they were reduced drastically after the Chamber showed it was determined to punish Mladic for misbehaving. Over the past months, the accused did not have any furious reactions, despite the claims of his defense that he is physically weak and emotionally irritable.
Apart from the Serbian doctors' report, the defense invokes the findings of the medical team in the UN Detention Unit, headed by Dr Falke; in their April report he also expressed his view that Mladic's health called for a four-day working week. Dr Falke repeated his view in court.
The defense notes that the Trial Chamber's failure to comply with the doctors' recommendations is a 'serious mistake'. Instead of relying on the opinions proffered by professional medical staff, the judges made a decision based on their 'lay opinion'. That is why, the defense contends, the Appeals Chamber should quash the decision on the five-day working week and give Ratko Mladic's Wednesday as a day off.