Home
TRIBUNAL'S STRATEGY: HEAD IN THE SAND
At the first press conference following the disclosure of the letter by Danish judge Harhoff, the two spokespersons, of the ICTY and OTP, kept saying 'no comment' in reply to all the questions that pertained to the allegations in the letter and its possible fallout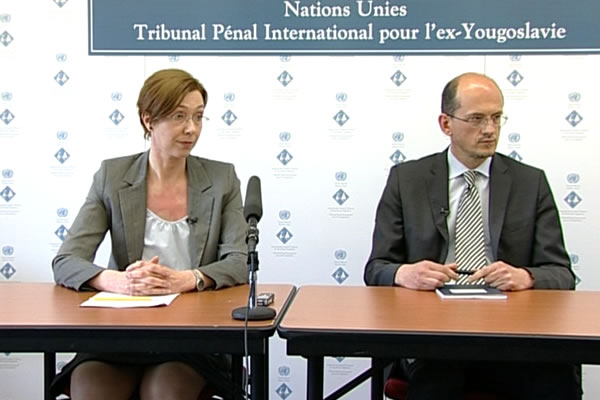 Magdalena Spalinska, portparol of the ICTY and Aleksandar Kontic, portparol of the prosecution
Last week, Judge Frederik Harhoff expressed his 'deep concern that the Tribunal has changed its course under the pressure of the military establishments of some influential countries'. The letter snowballed into an avalanche of reactions, comments and new disclosures about the goings-on behind the curtains of the International Criminal Tribunal for the former Yugoslavia.
The Tribunal appeared to be still in its ivory tower: at the weekly press conference, the spokespersons of the ICTY and the prosecutor's office, Magdalena Spalinska and Aleksandar Kontic, kept saying 'no comment' in unison in reply to all the journalists' questions about the allegations from the letter and its possible fallout.
There were many questions, more than at any previous press conference at the Tribunal.
The spokespersons refused to comment about the reactions of President Meron, other judges and prosecutor Brammertz to Harhoff's letter. Spalinska didn't want to comment on the initiatives launched by some victims' associations for a petition urging the UN to establish an independent investigation commission to look into the allegations in Judge Harhoff's letter. Kontic, on the other hand, did not want to comment on the question whether the OTP would call for an internal enquiry on the same issue. Kontic also refused to state if the OTP would call for a review of the judgments acquitting Gotovina, Markac and Perisic in the light of Harhoff's claim about the 'pressure of the military establishments of some influential countries'. Kontic did say that the prosecution was considering a motion for review independently of Judge Harhoff's allegations.
The spokespersons had the same answer, 'no comment', to the series of questions about the confidential diplomatic cables published by Wikileaks. The cables show President Meron has had close ties with the US diplomats and other officials.
When a journalist said it would be good if President Meron met the press and addressed the situation in order to contain the damage to the Tribunal, Spalinska replied that 'for the time being', the President didn't want to comment on it. The question what – if anything – President Meron and other judges intended to do to restore the Tribunal's credibility and restore the trust also remained unanswered.