Home
"BOMBSHELL" AT THE TRIBUNAL
Danish media have published a private

letter

in which Judge Frederik Harhoff expresses his concern over the 'change in the Tribunal's course under the pressure of the military establishment of some influential countries'. According to the letter, the ICTY President Theodor Meron has succumbed to this pressure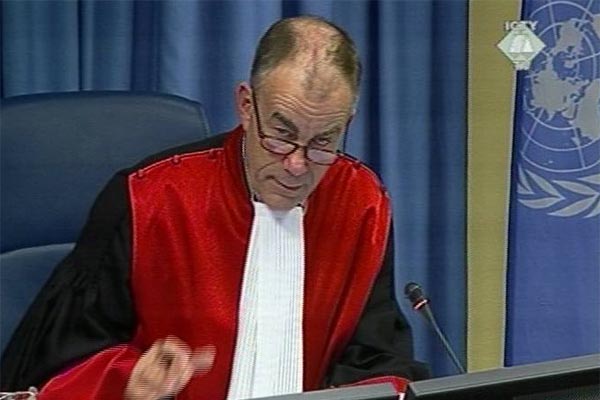 Frederik Harhoff, the Danish judge at the Tribunal
Three judgments in which the accused were acquitted over the past few months at the Tribunal have left the Danish judge Frederik Harhoff 'with a strong feeling that the Tribunal changed its course under the pressure of "military establishment" of some influential countries', such as the USA and Israel. The 'establishments' have concluded that the Tribunal's jurisprudence in the application of the principle of command responsibility has gone too far, and that it might endanger military commanders who do not hail from the Balkans, Harhoff claims.
Judge Harhoff wrote this and much more in a private letter he sent to 56 of his colleagues and friends. Somehow, the letter reached the offices of the Copenhagen daily BT. The paper printed the letter in its entirety on its front page this morning, having decided that the issues in the letter are 'doubtless of public interest'.
The recent judgments acquitting generals Gotovina, Markac and Perisic and the two Serbian secret police chiefs Stanisic and Simatovic 'have occasioned a deep professional and moral dilemma' for Judge Harhoff, one that he has never before experienced. But worst of all, Judge Harhoff claims in the letter, is the 'suspicion that some of my colleagues have been exposed to short-sighted political pressure and this completely changes the premises of my work to serve the principles of justice and reason'.
In his letter, Judge Harhoff stated that the public "will probably never" learn if his suspicion that the American President of the tribunal exerted strong influence on 'the ageing Turkish judge' Mehmet Guney to change his mind at the last minute and join the narrow minority that voted for the acquittal of Gotovina and Markac is justified.
Harhoff said that from his conversations with colleagues in the 'corridors of the Tribunal' he had learned that President Meron had pressured Judge Orie to produce the judgment in the case against Stanisic and Simatovic before the end of May 2013 and Meron's address to the UN Security Council. The Trial Chamber in the Stanisic and Simatovic case thus didn't have enough time to consider in detail the evidence of the guilt of the accused. As Harhoff said, Judge Picard, who was outvoted by the majority in the Trial Chamber, had only four days to produce her dissenting opinion to explain why the accused should have been found guilty and convicted.
It remains to be seen if and how Judge Harhoff's letter will shake the Tribunal, and whether any of his colleagues would side with him. Several judges have expressed their concern over the new course, but only in the Tribunal's "corridors".
Full text of the letter avaialble here.