Home
TRIBUNAL'S 20 YEARS
Dutch king Willem Alexander and other distinguished guests attended the ceremony to mark the 20th anniversary of the International Criminal Tribunal for the former Yugoslavia. There were no representatives of the courts and prosecutors from the region. Absent were the members of the associations of victims for whom the Tribunal was established in the first place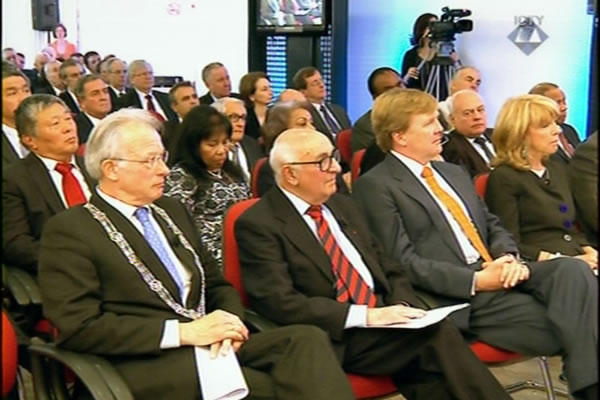 Ceremony in tha main hall of the Tribunal
A ceremony in the Tribunal's main lobby marked the 20th anniversary of the UN Security Council Resolution 827. On 25 May 1993, the International Criminal Tribunal for the former Yugoslavia was established pursuant to the resolution.
In the presence of the Dutch king Willem-Alexander, high representatives of the state and the host city and the diplomatic corps in The Hague, leading officials of the Tribunal spoke about the legacy of the Tribunal's past 20 years.
Patricia O'Brien, UN Under-Secretary for legal affairs, was the keynote speaker on behalf of the UN Secretary General.
Judges Agius, Kwon and Flugge, the first chief prosecutor Goldstone, Judge Orie and Belgrade lawyer Novak Lukic spoke about the challenges they encountered at the trials of persons charged with war crimes by the first international tribunal to be set up after the Nuremberg and Tokyo tribunals. At the first Tribunal's trial, Judge Orie was one of Dusko Tadic's defense counsels. Novak Lukic is the president of the Association of the Defense Counsels practicing before the Tribunal.
President Theodor Meron spoke with some pride about the key achievements of the past 20 years: holding responsible those in power for the crimes is now 'a rule, not an exception', the persons accused of war crimes are guaranteed a fair trial, and the 'legal landscape' in the world has changed. Only chief prosecutor Serge Brammertz spoke about the victims of the war crimes and justice for those who have survived. The Tribunal's Registrar John Hocking mentioned the role of the media in keeping the public informed about the Tribunal's work.
Several speakers stressed that the Tribunal's permanent legacy would depend mostly on the extent to which national justice systems in the region would continue criminal proceedings against the perpetrators of the war crimes, after the Tribunal's mandate is finished. And yet there were no representatives of courts or prosecutors' offices from the former Yugoslavia at the ceremony. Also, there were no members of the associations of war crime victims; the Tribunal was established to give them voice.