Home
'STRATEGIC' SHELLING OF HOSPITAL
Quoting the statement of the health minister in the wartime Bosnian Serb cabinet, Dr Bakir Nakas claims that the VRS intended to destroy the hospitals Sarajevo because they wanted 'to strip the enemy of the possibility of medical treatment'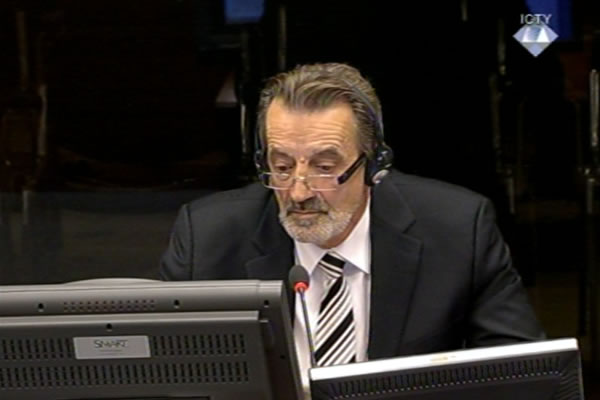 Bakir Nakas, witness at the Ratko Mladic trial
After the re-examination of Ekrem Suljevic, former member of the Anti-Sabotage Department in the MUP, the prosecution called Bakir Nakas, head of the Sarajevo State Hospital, to give evidence at the trial of Ratko Mladic. The former commander of the Bosnian Serb army is charged with crimes committed in Sarajevo from 1992 to the end of the war in Bosnia and Herzegovina.
The prosecution tendered into evidence the witness's statement based on his previous evidence at the trials of Dragomir Milosevic, Momcilo Perisic and Radovan Karadzic together with the hospital files from the war period. The files document the injuries of the victims of shelling and sniper attacks in Sarajevo. Among them are three-year old Anisa Pita, the victims of sniper attacks on trams, Azem Agovic, Alen Gicevic, Afeza Karacic and Sabina Sabanic, victims of the shelling at a football match and of residential buildings in Alipasino Polje, Dobrinja, Hrasnica and Safeta Hadzica Street. Dr Nakas confirmed the authenticity of the medical files on the two shelling incidents at the Markale market, in February 1994 and August 1995.
Prosecutor D'Ascoli read out the summary of the statement, in which Dr Nakas described how the shelling and sniper attacks affected the operation of the hospital and the lives of the civilian population. As he said, the fire came from the areas under the Bosnian Serb control. This, the witness contends, he could see from his office.
According to Dr Nakas, the Serb forces intended to 'destroy the hospital as such'. Hadzimusic, an architect, confirmed this, the witness recounted, when he estimated the damage. Hadzimusic said that the 8th floor was the 'heart of the building's stability' and that the hospital would 'collapse' if the shelling of that floor continued.
Nakas noted that his former colleague and health minister Dragan Kalinic confirmed the intent to destroy the hospital. At a Bosnian Serb Assembly session in May 1992, Kalinic said that the Kosevo Hospital had fallen into the enemy hands. If the same thing happened to the military hospital, the Kosevo Hospital should be 'destroyed to strip the enemy of the possibility of medical treatment', Kalinic stated.
At the end of the hearing, the prosecutor showed a report produced by the Sarajevo Security Services Center on the incident in which Dzenana Sokolovic was wounded and her son killed. The prosecutor noted the differences in the description of the bullet's path through the body in the police and hospital reports. Nakas explained that 'the elements may have been incorrectly recorded at that time'. Nakas said that to this day, in countries with the state-of-the-art medicine, such as the USA or Sweden, patients can have a healthy kidney removed instead of the diseased kidney.


The witness's examination-in-chief continues tomorrow. Dr Nakas will then be cross-examined by General Mladic's defense counsel.