Home
'ROSES' AND 'PAWS' ON ASPHALT IN SARAJEVO
Former member of the Anti-Sabotage Protection Department in the BH MUP in Sarajevo started his evidence at the trial of Ratko Mladic. During the war, the witness took part in more than 50 investigations of the shelling incidents that involved civilian victims. In his evidence, the witness gave some additional explanations concerning the marks left by the lethal shells on the streets of Sarajevo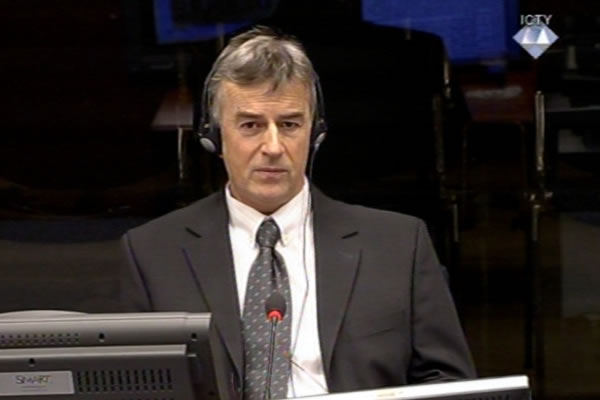 Ekrem Suljevic, witness at the Ratko Mladic trial
Former member of the Anti-Sabotage Protection Department in the BH MUP in Sarajevo Ekrem Suljevic began his evidence at the trial of Ratko Mladic, former commander of the VRS Main Staff. From 1993 to the end of the war Suljevic took part in over 50 investigations of the shelling incidents that involved civilian casualties. Among them was the Markale incident on 5 February 1994.
Suljevic's written statement based on his previous evidence at the trials of Dragomir Milosevic, Momcilo Perisic and Radovan Karadzic was admitted into evidence together with a large set of documents. The documents pertain to the investigations of incidents listed in the indictment against Mladic, the procurement of ammunition and the manufacture and use of modified air bombs, known as 'sows', by the VRS Sarajevo-Romanija Corps.
In his statement, Suljevic explained in detail the methodology used in establishing the origin of fire. In the courtroom, he used drawings to provide additional explanations on the prints left by the shells at the point of impact. In their jargon, the investigators called those prints 'roses' or 'paws'. According to the witness, the markings found on the fragments of some shells indicated they had been manufactured in the Krusik arms factory in Valjevo, Serbia. The analysis of the fragments of the shell that had hit Asikovac on 22 May 1995 showed that the explosive charge had been produced that very year.
In the examination-in-chief, the witness was shown photos taken by the Sarajevo police in the Zeljezara in Ilijas in 1996, after the reintegration of the parts of Sarajevo that had been under the VRS control during the war. The photos show 200-liter barrels. According to the witness, during the war the barrels were filled with explosives and then used as 'mobile bombes': truck wheels were fitted on them and they were rolled away. In the cross-examination, Mladic's defense counsel put it to the witness that the barrels were actually filled with concrete and then used to clear paths through mine fields.
The defense used the incident in Vrbovska Street on 2 July 1995 to prove that the Serb artillery fired on military, not civilian, targets. The defense noted that the headquarters of a BH Army unit was located nearby, as was the Viktor Bubanj military barracks. Defense counsel Lukic put it to the witness that artillery fire had been opened from the location close to Sarajevo TV building on the Serb positions. The witness replied that he personally had never seen it.
Ekrem Suljevic will continue his testimony tomorrow morning.