Home
POLICE 'PLANTED' EVIDENCE
Ratko Mladic's defense continued the cross-examination of Ekrem Suljevic. The defense contends that the Sarajevo police 'planted' evidence to blame the Serb side for the shelling incidents that caused civilian casualties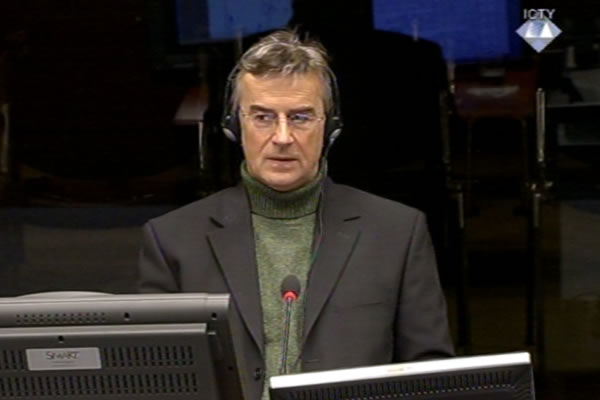 Ekrem Suljevic, witness at the Ratko Mladic trial
The cross-examination of Ekrem Suljevic, former member of the Anti-Sabotage Protection Department in the BH MUP in Sarajevo, continued on Tuesday. The defense of the former commander of the VRS Main Staff Ratko Mladic claimed that the Sarajevo police 'planted' evidence to blame the Serb side for the shelling incidents where there were civilian casualties.
Mladic's defense counsel Branko Lukic claimed that the incident in which the Sarajevo TV building was hit by a modified air bomb on 28 June 1995 was a 'planted explosion'. According to Lukic, in his expert analysis of the incident, Dr Berko Zecevic presented 'an impossible trajectory' of the projectile. Lukic claimed that the modified air bomb weighed about 300 kg, flew at the speed of about 540 km/h and 'ricocheted' before it exploded.
Suljevic dismissed the suggestion that the explosion was planted. Commenting on the sketch of the air bomb's trajectory presented in Dr Zecevic's report the witness said he could only assume that the sketch showed the approximate trajectory of the missile. The investigation didn't determine – because it is impossible to do it – whether the shell had a contact fuse or time-delay fuse.
The defense tried to illustrate its 'planted' explosions theory with the incident in Safeta Hadzic Street. On 26 May 1995, first an air bomb fell there, followed by several mortar shells. According to the findings of the Sarajevo police, the projectiles were fired from the VRS position in the west-southwest. Lukic put it to the witness that a dud shell recovered at the site was in fact taken out of a basement and 'planted' there to 'blame the Serb forces' for the shelling. The witness dismissed the suggestion.
Evidence was also purportedly planted in the incident in Mis Irbina Street, the defense claimed. On 27 June 1995, a child was killed and several children were wounded in the shelling. As the defense noted, the police report states that only one shrapnel hole was found in the door of the doorway where the children were at the time. The defense found it very suspicious. Suljevic didn't think it was strange at all, saying that the door could have been open at the moment of the explosion.
For each incident, the defense insisted there were legitimate military targets in close proximity to the impact sites. The Energoinvest building was located near the TV building. A police station was located near Safeta Hadzica Street. The headquarters of the Sarajevo Security Services Centre was close to Mis Irbina Street. Ekrem Suljevic's cross-examination will continue tomorrow.