Home
SNIPER AND ARTILLERY TERROR IN DOBRINJA
In his evidence, Refik Sokolar, a police inspector from Novi Grad municipality in Sarajevo, said there were one or two sniper and artillery incidents every day in Dobrinja, a part of Sarajevo. The witness himself was wounded in an incident listed in the indictment against Ratko Mladic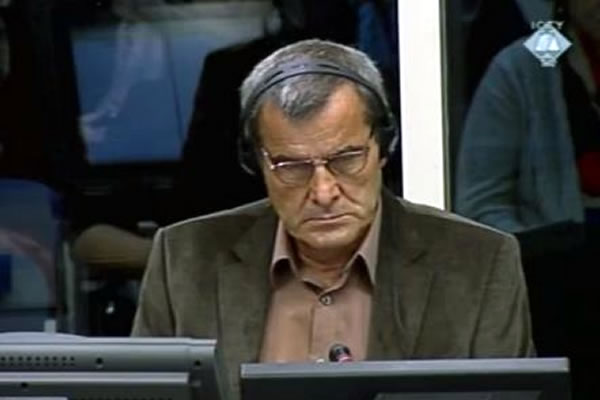 Refik Sokolar, witness at the Ratko Mladic trial
Refik Sokolar, police inspector in Novi Grad municipality in Sarajevo, testified at the trial of the former VRS Main Staff commander Ratko Mladic. During the war, Sokolar participated in about 200 investigations of artillery and sniper incidents in Dobrinja, a neighborhood in Sarajevo. According to the witness, throughout the war there were on average one to two incidents a day in Dobrinja.
According to the summary of the statement Sokolar gave to the OTP investigators in 1995 and 2000, most of the shells that hit Dobrinja were fired from the direction of Nedzarici, the JNA military barracks in Lukavica and the Aerodromsko Naselje; all these sites were under the control of the Serb forces. Snipers operated from the School of Theology in Nedzarici, the Ikica Kuce housing estate and the Orthodox Church in Veljine.
The witness confirmed in the examination-in chief that at the beginning of the war, when Dobrinja was completely cut off from the city, victims were buried in a make-shift graveyard next to parking lots, in parks and other locations in the area. A photo taken during the war showing a row of graves next to a local parking lot was admitted into evidence.
The witness was wounded in an incident listed in the indictment against Mladic. On 4 February 1994, a salvo of three mortar shells was fired on Dobrinja. The first shell hit Oslobodilaca Sarajeva Street amid the people queuing for humanitarian aid and children who were attending religious classes nearby. The second and third shell fell on an open-air market behind the apartment buildings in Mihajla Pupina Street and Oslobodilaca Sarajevo Street. Eight persons were killed and at least 18 were wounded.
Mladic's defense counsel Branko Lukic argued in the first part of the cross-examination that all men of military age in Dobrinja were involved in the defense, that some army and police personnel wore civilian clothes at the beginning of the war and that as the war continued the military and police wore similar uniforms.
After the first break, Mladic didn't return to the courtroom. As his defense counsel Stojanovic explained, Mladic's 'blood pressure was extremely high'. At first, Mladic refused to be examined by the Tribunal's duty medical staff and wanted to see his doctor from the Detention Unit or to have his blood pressure taken in public, in the courtroom. After a while, Mladic agreed to be examined, provided his doctor in the Detention Unit could be consulted over the phone. When the doctor ascertained Mladic's condition was satisfactory, Mladic returned to the courtroom.