Home
'ADJUSTING' MORTAR FIRE
Nedzib Djozo, a police officer from Sarajevo, said at the trial of Ratko Mladic that the VRS 'deliberately' targeted places where a large number of civilians gathered to cause as many casualties as possible: bread and water queues, children sledding, markets… Before the Markale 2 massacre, the Serb forces took a while to 'adjust' mortar fire targeting that part of the city until they finally hit the market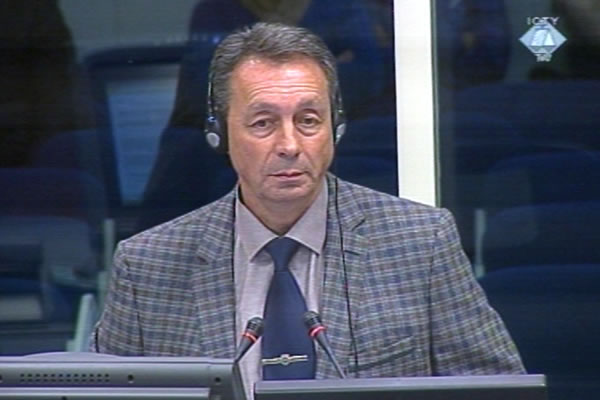 Nedzib Djozo, witness at the Ratko Mladic trial
Nedzib Djozo, a police officer from Sarajevo, gave evidence at the trial of Ratko Mladic. During the war, Djozo was involved in the investigations of sniper and artillery incidents in Stari Grad municipality. Djozo has already testified at the trials of Dragomir Milosevic and Momcilo Perisic and in the case against former Republika Srpska president Radovan Karadzic.
The witness's written statement prepared for Karadzic's trial was admitted into evidence together with a war log of the Stari Grad public security station. Locations targeted from VRS sniper and artillery positions around the city, dates and times of the incidents and the number of casualties were noted in the log.
As Djozo said, during the war 'thousands upon thousands of shells' hit Sarajevo. In addition to mortars and snipers, civilians were often targeted by long-range machine guns called 'the death sowers'. The witness claimed that the Serb forces 'deliberately' opened fire at the places where a large number of civilians would gather to cause as many casualties as possible: bread and water queues, children sledding, markets.
According to the witness, the Markale 2 incident is a prime example of deliberate shelling. On 28 August 1995, 43 persons were killed and more than 75 were wounded in the explosion of a mortar shell. In the two months preceding the incident, the VRS 'adjusted' fire targeting that part of the city 'until it was finally able to hit the overcrowded Markale town market and cause many casualties', the witness said. The witness came to that conclusion on the basis of the impacts of three shells in Dzenetica Cikma Street near the Markale market and the artillery incidents in Hamdije Kresevljakovica Street, Branilaca Sarajeva Street, Ferhadija Street and Mula Mustafe Baseskije Street.
Mladic's defense counsel Branko Lukic argued in the cross-examination that the Serb army fired on legitimate targets. Lukic put it to the witness that the reserve police units, the quartermaster service of the BH Army 1st Corps, the Territorial Defense staff and the Stari Grad police station were located close to the Markale market. Lukic also noted that the BH Army forces were also stationed in the building of the Faculty of Political Sciences, near the site of a mortar incident in Hamdije Kresevljakovica Street. One student was injured in the incident.
Lukic asked the witness if he had checked the claims that 'a shell was thrown by hand from a window of a building next to the Markale market'. The witness replied that he hadn't because it was known to have been a 120 mm shell. The witness added that he 'can't understand how someone could throw a 120 mm shell from a window'.
Ratko Mladic's trial continues after a one-week break on Monday, 3 December 2012.