Home
FORMER PRISONER IN KPD FOCA GIVES EVIDENCE
At Ratko Mladic's trial, a protected witness testifying under the pseudonym RM 63 spoke about the six months of detention in the Penitentiary and Correctional Facility (KPD) in Foca. The defense put it to the witness that the civilian authorities were in charge of the KPD, specifically the Justice Ministry headed by Momcilo Mandic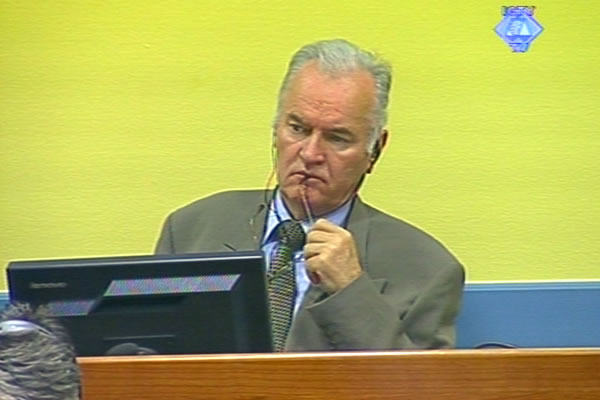 Ratko Mladic in the courtroom
Ratko Mladic's trial continued with the evidence of protected witness RM 63. In 1992, the witness was detained in the Penitentiary and Correctional Facility (KPD) in Foca. The witness's written statement was admitted into evidence and in parts of the hearing open to the public the witness recounted some details about his ordeal and the suffering of other prisoners. Many of them didn't survive their detention.
When the Serb forces captured Foca in early April 1992, the witness and a large group of civilians sought shelter in the military depot in Pilipovici. At the time the depot was still under the control of the JNA. On 26 April 1992, armed Serb soldiers seized the depot and separated men from women and children. Most of the men were executed while others were first transferred to the women's prison in Velecevo and then to the Foca KPD.
The detainees in the KPD were beaten and tortured; many were taken out of their cells and killed. The witness lost 46 kilos in a few months because of the starvation rations. Together with about 30 other prisoners, the witness was selected for an exchange and was taken to the police station in Kalinovik on 31 October 1992. There he was first beaten and then put into solitary confinement. He was finally exchanged after some ten days.
As the witness said, there wasn't a single reason for his detention except for the fact that he was Muslim. The witness wasn't a member of any party and didn't carry arms; he was an ordinary worker and until the war he socialized with his fellow citizens of Serb ethnicity and lived together with them in harmony. The witness didn't find it easy to listen to the details of his detention in the summary read out in court by the prosecutor. 'It all goes round and round my head', the witness said at one point and asked for a brief break to pull himself together.
In the cross-examination, Mladic's defense counsel Branko Lukic noted that the depot in Pilipovici had been taken over by irregular units. According to the witness's statement, the members of those units had 'beards and long hair' and wore 'cockades'. The defense counsel put it to the witness that vengeful Serbs from Foca beat up prisoners to settle the score with their Muslim neighbors for various pre-war quarrels.
Lukic also put it to the witness that the KPD in Foca was under the jurisdiction of the civilian authorities - the RS Justice Ministry headed by Momcilo Mandic. According to Lukic, the Crisis Staff of the so-called Serb Municipality of Foca decided who would be released and who would remain in prison.
Ratko Mladic's trial continues on Wednesday, 21 November 2012, with the testimony of John Hamill, former UN military observer in Sarajevo.