Home
SERBIAN PROSECUTOR'S ALLEGATIONS 'SURPRISE' OTP IN THE HAGUE
The OTP once again denied Vladimir Vukcevic's allegations about the witnesses in the case against Haradinaj, Balaj and Brahimaj being killed. The OTP recalled that the Serbian war crimes prosecutor had already made similar claims, only to issue a full denial soon afterwards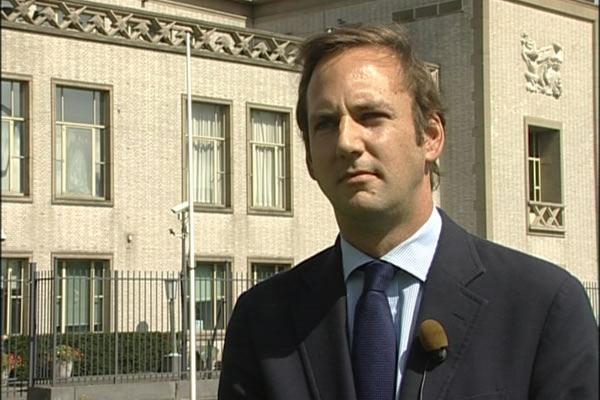 Frederick Swinnen, advisor of Chief prosecutor
The OTP in The Hague was 'surprised' to hear Serbian war crimes prosecutor Vladimir Vukcevic say that 19 potential witnesses in the case against Ramush Haradinaj, Idriz Balaj and Lahi Brahimaj had been killed, chief prosecutor's adviser Frederick Swinnen said at a press conference. Swinnen emphasized that Vukcevic's claims 'misrepresent the reality' and that 'there is no evidence substantiating claims that prosecution witnesses were killed', and Vukcevic was aware of it.
As Swinnen recalled, the Serbian prosecutor has made similar allegations in the past. However, after talking to the Tribunal's representatives, Vukcevic corrected his statements, admitting that his claims about the killing of witnesses were not true. From that aspect in particular, hearing Vukcevic raise the same issues came as a surprise, Swinnen said.
In a telephone conversation with the OTP staff this morning, Vukcevic tried to defend himself saying the media had misinterpreted his words. It remains to be seen if the Serbian prosecutor will issue a denial of the statements attributed to him in the media, as he did last time.
The OTP is aware of problems with witnesses in the case against the former KLA commanders, Swinnen said. Swinnen also recalled that the trial judgment did note that the trial proceeded 'in an atmosphere where witnesses felt unsafe'. But 'to extrapolate from that assessment that numerous witnesses were killed is inaccurate', Swinnen noted.
At their first trial, Haradinaj and Balaj were acquitted while Brahimaj was sentenced to six years on charges of crimes against civilians in the Dukagjin area in Kosovo. The Appeals Chamber quashed parts of the judgment and ordered a re-trial for crimes in the KLA prison camp in Jablanica. The Appeals Chamber found that the trial had been brought to an end too early, before hearing two unwilling prosecution witnesses. Tomorrow, a new trial judgment will be handed down; the representative of the OTP believes that the parties, if they are not happy with it, will have an opportunity to appeal.
In an interview for the Belgrade newspaper Informer, Vukcevic accused the OTP in The Hague of being responsible for the alleged deaths of 15 witnesses. The OTP was 'sloppy and unprofessional' in the case against the former KLA commanders while Serbia 'really did all it could to help', Vukcevic said. The first trial judgment dismissed summarily the evidence from Serbia. Swinnen says the OTP collected all the available evidence and just like Serbia did everything it could to prove the allegations in the indictment. The results of those efforts will be known tomorrow morning.