Home
HARADINAJ, BALAJ AND BRAHIMAJ WILL HEAR NEW JUDGMENT ON 29 NOVEMBER 2012
On Thursday, 29 November 2012, Judge Moloto's Trial Chamber will render the second judgment in the case against the former KLA commanders who were tried for crimes against Albanians, Serbs and Roma in the Jablanica prison camp in 1998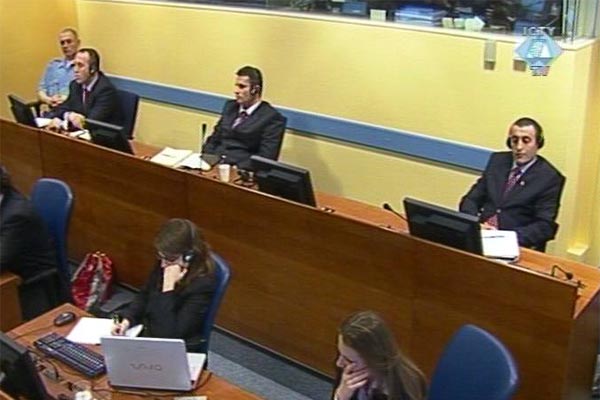 Ramush Haradinaj, Idriz Baljaj and Lahi Brahimaj in the courtroom
Ramush Haradinaj, Idriz Balaj and Lahi Brahimaj will appear before Judge Moloto's Trial Chamber on 29 November 1992 to hear a new judgment on the indictment for crimes in the KLA prison camp in Jablanica. Haradinaj, Balaj and Brahimaj are charged with taking part in the joint criminal enterprise whose aim was to abuse Kosovo Albanians, Serbs and Roma. This aim was implemented through murder and abuse in the Jablanica prison camp.
The three accused were first charged with crimes in an area of Western Kosovo known as Dukagjin. In April 2008, Haradinaj and Balaj were acquitted while Brahimaj was sentenced to six years for crimes in Jablanica. In July 2010, the Appeals Chamber partially reversed the judgment and ordered a re-trial on six counts in the indictment for crimes in the Jablanica prison camp. The Appeals Chamber founded its decision on the conclusion that the prosecution had rested its case prematurely, before the court heard the evidence of two unwilling witnesses.
The re-trial commenced on 18 August 2011. Shefqet Kabashi, one of the unwilling witnesses, yet again refused to answer the prosecution's questions. Kabashi explained that he was afraid for his safety because other witnesses of the crimes in Jablanica had been 'killed or disappeared'. The prosecution barely managed to get the judges to admit into evidence Kabashi's previous testimony in the case against Limaj et al., where Kabashi spoke about the crimes in Jablanica.
The identity of the second unwilling witness remained protected. The prosecution also called a few witnesses who had testified at the first trial and some new witnesses who spoke about the involvement of the accused in the incidents in which prisoners were murdered and badly beaten. The defense tried to disqualify the witnesses, calling them 'liars and cheats'. The first trial of the former KLA commanders was also marred by the problems with witnesses. In its 2008 judgment, the Trial Chamber stated that the trial had proceeded in 'an atmosphere of fear for witnesses'.
The Trial Chamber, with Judge Moloto from South Africa presiding, will consider the quality of new evidence and decide if this time it is sufficient to convict Haradinaj and Balaj and possibly give a harsher sentence to Brahimaj. In the closing argument, the prosecution asked for a sentence of 'at least 20' years in prison for each of the accused. The defense teams called for their clients' acquittal.