Home
POLICE RAN PRISON CAMP, ARMY TOOK PEOPLE TO DO FORCED LABOR
Ratko Mladic's defense contests the allegation that the army participated in the abuse and murder of Muslims in Vlasenica and that it ran the Susica prison camp. Ibro Osmanovic, former prisoner of the Susica prison camp claimed today that anybody could walk into the camp 'as they pleased'. People in military uniforms took the detainees to the military barracks and into town where they had to do forced labor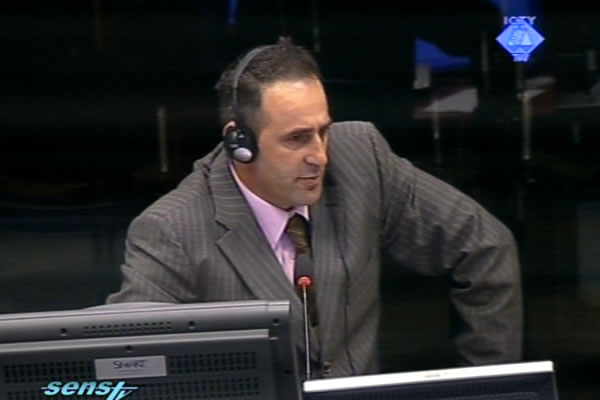 Ibro Osmanovic, witness at the Ratko Mladic trial
At the beginning of the cross-examination of Ibro Osmanovic, Ratko Mladic's defense counsel criticized the witness for referring to the entry of the JNA into Vlasenica in late April 1992 as 'the occupation'. Yesterday, Osmanovic testified about the abuse and murder of prisoners in the prison camps in Susica and Batkovic. Today the witness remained adamant that it was a 'classic occupation'. When the JNA entered the town, all vital functions were taken over and only one ethnic community received weapons, the witness argued. As he recounted, curfew was imposed, freedom of movement was restricted. 'A ghetto was created; unfortunately I remained in there with my family', Osmanovic said.

As has been the case with the previous witnesses who had been held in detention facilities, the defense tried to prove that the police – not the army – were responsible for the detention, abuse and murders of Croats and Muslims. The witness confirmed that he had been arrested by police officers and that he had been taken to the public security station in a police car. He also said that the municipal prison to which he was transferred soon afterwards was also guarded by the police. Defense counsel Miodrag Stojanovic put it to the witness that the Susica prison camp was controlled by the police. Prison camp warden Veljko Basic was a retired traffic policeman, and the prison camp commander Dragan Nikolic Jenki was a member of the special police unit, defense counsel Stojanovic noted. Osmanovic confirmed that the special police secured the prison camp, adding that anybody could walk into the prison camp 'as they pleased'. Each day, the people in military uniforms took about 40 prisoners to do forced labor in the military barracks. Other people, wearing camouflage gear, took groups of prisoners to do various jobs in the town, such as cleaning the streets.

Defense counsel Stojanovic tried to pinpoint the contradictions in the statements the witness had given to the Tribunal's investigators and the several statements he had previously given to the BH security agencies. The deaths of Galeb Smajlovic and Dzevad Saric were discussed in great detail for about half an hour; at the end of the debate, it was established that there were no inconsistencies in the witness's statements.

The defense counsel devoted most of the cross-examination to the historical background of the conflict and the outbreak of the hostilities in Vlasenica, as well as the details of the witness's military service in 1984. The judges noted that this line of questioning was 'largely irrelevant'. The presiding judge suggested to the defense lawyers to leave the questions about the context for the end of the cross-examination and to focus first on the substance of the witness's evidence.