Home
MURDERS IN FRONT OF MANJACA PRISON CAMP COMMAND
As the prosecutor re-examined a Bosnian Serb army insider at the trial of Ratko Mladic, the witness described an incident in August 1992 when ten Muslim prisoners were killed in front of the Manjaca prison camp. The witness stressed that the prison camp command was not responsible for the fate of the victims as they hadn't gone through the intake procedure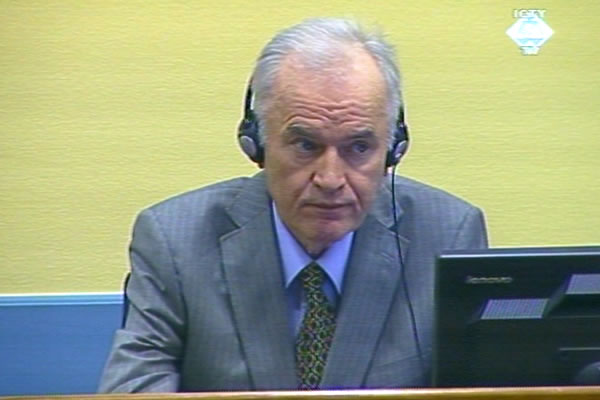 Ratko Mladic in the courtroom
Former VRS security officer who served in the Manjaca prison camp near Banja Luka completed his evidence as a prosecution witness today at the trial of former Bosnian Serb army commander Ratko Mladic. The witness testified with image distortion and under the pseudonym RM 051 to protect his identity. Yesterday, the witness spoke in detail about his security reports from 1992 in which he described the events and conditions in the Manjaca prison camp.

In a report, the witness recounts that prisoners Osman Filipovic and Esad Bender were killed in Manjaca in late August 1992. Yesterday in his evidence, the witness insisted this was the only murder in the prison camp. Today, prosecutor Hochhauser reminded the witness of the daily report of 10 August 1992 in which the witness described an incident in which ten detainees were killed. Four of them were beaten to death.

As the witness explained, the incident happened in front of the prison camp, 'on the other side of the wire fence' before the formal intake of the prisoners in Manjaca. The prisoners therefore weren't under the jurisdiction of the prison camp command; the Serb police officers who had brought them in a truck from Omarska were in charge of them. The prisoners were not admitted to Manjaca immediately because they had arrived in the evening. As it was impossible to do the intake at night, the detainees slept outside of the prison camp. When it was discovered that the prisoners had been beaten up, the prison camp commander Bozidar Popovic reacted angrily. So did the witness, but a police officer from Prijedor told him 'if you kick up a fuss, you'll end up like these people on the floor'. 'Of course, I stood down and then informed the superiors about the incident', the witness said today.

In addition to the two incidents, the security reports from 1992 describe an incident in which 24 prisoners suffocated en route from Sanski Most to Manjaca. That report and a number of other reports were admitted into evidence today. At the time the reports were drafted, they were submitted to the superior command.

The trial of the former VRS commander continued with the evidence of Osman Selak, who commanded the JNA logistics base in Banja Luka. After the VRS was established, he served in it for a while, again in Banja Luka. Ratko Mladic is on trial for double genocide and four joint criminal enterprises which involved the gravest crimes against non-Serbs in BH.