Home
IMPRISONED BY HIS ERSTWHILE NEIGHBORS
Former detainee in the prison camps of Susica and Batkovic Ibro Osmanovic testified at the trial of Ratko Mladic today. Osmanovic described the abuse of Muslims and Croats in the prison camps under the control of their 'erstwhile neighbors'. The witness lost his younger sister, two brothers and more than 30 other relatives in the war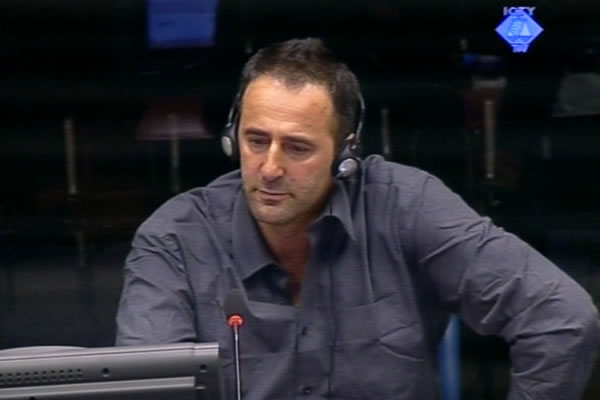 Ibro Osmanovic, witness at the Ratko Mladic trial
'Nobody could figure out why it happened, why we had to suffer so much at the hands of our erstwhile neighbors', Ibro Osmanovic from Vlasenica said today at the trial of Ratko Mladic. Vlasenica is one of the municipalities in Bosnia and Herzegovina where the crimes against non-Serbs, as alleged in the indictment against the former commander of the VRS Main Staff, reached the scale of genocide.
Osmanovic is testifying before the Tribunal for the seventh time. His written statement from 1994 was admitted into evidence. In the statement, Osmanovic described how the JNA troops seized all key institutions in Vlasenica on 23 and 24 April and established a Serb government in the municipality. Muslims could move about the town only with passes issued by the Crisis Staff.
Osmanovic was arrested on 22 May 1992 and was detained first in the police station in Vlasenica and then was transferred, first to the municipal prison and then to the Susica and Batkovic prison camps. In more than one year of detention, Osmanovic never learned why he was detained.
In June 1992, Osmanovic and a group of other prisoners were forced to bury 22 bodies in the Drum neighborhood. As the witness recounted, the victims were civilians: Muslims aged from 20 to 60. All but one had gunshot wounds to the head.
In the Susica and Batkovic prison camps, prisoners were beaten and killed on a daily basis. Today, Osmanovic was shown a report from the Susica prison camp warden Veljko Basic about the deaths of two elderly prisoners, Azil Zildzic and Durmo Handzic. Basic claimed they died of heart attack on 22 June. 'They were beaten to death', the witness said, adding that Handzic had been beaten badly and died 'by my feet'. Osmanovic described some other beatings. Dragan Nikolic Jenki, the commander of the prison camp, kicked Rauf Rasidovic and hit him with a rifle, saying 'a bullet is too expensive for him because it costs three German marks'.
Osmanovic lost two brothers, a sister and 36 other relatives in the war. He found the remains of his younger brother in three different graves at the Kljestani site. The head was found 25 km from the body, Osmanovic recounted. In April 2012, Osmanovic buried the remains of his younger sister. She was only 16; of her body, only four charred bones were found. Osmanovic said he doubted he would ever recover the remains of his other brother. 'Losing your family is the hardest thing', Osmanovic said.
While the witness spoke about his family members who had gone missing, particularly about his younger sister, Ratko Mladic often held his head, sighed deeply and shook his head in resignation. Mladic didn't make comments and raise voice as is his wont, keeping quiet and listening for once.