Home
KARADZIC GRANTED LEAVE TO APPEAL
Radovan Karadzic was granted leave to appeal against the Rule 98bis judgment in which the judges denied his request to be acquitted of the charge that he had taken UN staff hostages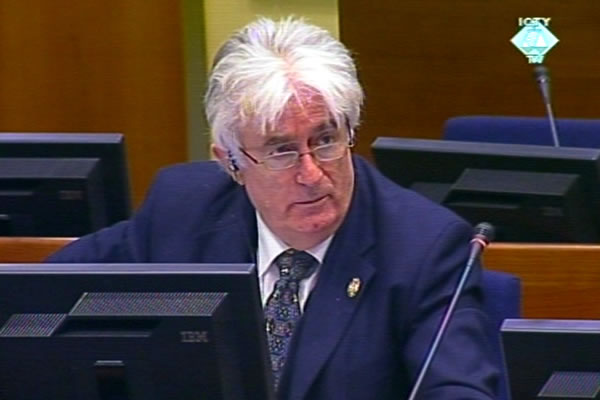 Radovan Karadzic in the courtroom
Judge O-Gon Kwon's Trial Chamber granted Radovan Karadzic's leave to appeal against the Rule 98 bis decision in his case, in which the judges denied his request for acquittal on the charge of taking UN staff hostagein May and June 1995.
Count 11 in the indictment charges Karadzic with being part of a joint criminal enterprise, in which he 'committed, planned, instigated, ordered and/or aided and abetted together with others' an operation in which over 200 UN military observers and other staff were taken hostage to force NATO to refrain from air strikes against Bosnian Serb military targets on 25 and 25 May 1995.
As Karadzic contends, at that time the UN was a 'party to the conflict', and the 'blue helmets' took active part in the hostilities, siding with NATO. Because of that, they did not have the status of protected persons under the Geneva Conventions. Karadzic asked the judges to acquit him of that count in the indictment at the half-time of the trial on these grounds, but the Trial Chamber dismissed his request.
Karadzic sought leave to appeal against the part of the judgment pertaining to Count 11 in the indictment immediately after the prosecution announced its intention to appeal against his acquittal on Count 1, which charged Karadzic with genocide in seven municipalities in Bosnia and Herzegovina in 1992.