Home
KARADZIC INTENDS TO CALL 600 DEFENSE WITNESSES
In his submission to the Trial Chamber, Karadzic has indicated he wants to examine 600 witnesses during his case. For their examination Karadzic would need about 300 hours. He has asked for another 300 hours to refute the 2,300 adjudicated facts that the Trial Chamber has formally taken notice of in his case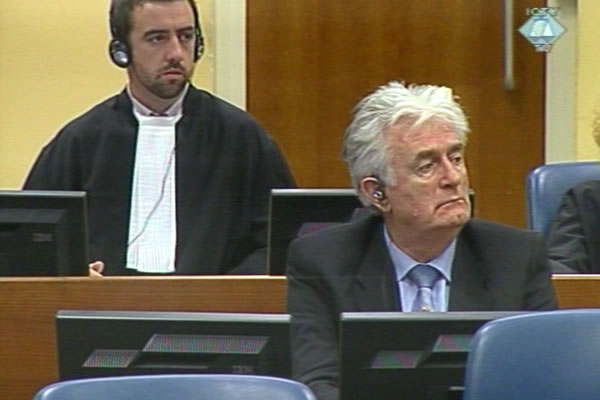 Radovan Karadzic in the courtroom
Radovan Karadzic intends to call 600 witnesses in his defense case, slated to begin on 16 October 2012. In his submission to the Trial Chamber, Karadzic announced he would need 300 hours for their examination-in chief. The prosecution had the same amount of time for its witnesses. The time needed by the prosecution to cross-examine the defense witnesses is not included in the 300 hours.
Karadzic has asked for 300 additional hours to contest the 2,300 adjudicated facts from other cases that the Trial Chamber has formally taken notice of in his case.
In his submission, Karadzic indicates he will call ten expert witnesses: Dr. Derek Alsop regarding the Markale incident; Dr. Zorica Subotic and Mile Poparic, who are shelling and sniping experts; Dr. Mirjana Andjelkovic Lukic, explosives expert, Dr. Stevo Pasalic, demography expert, generals Radovan Radinovic and Dragomir Keserovic as military experts, pathologist Dr. Dusan Dunjic, DNA analysis expert Dr. Oliver Stojkovic and finally, Kosta Cavoski as an expert for political affairs in BH and the former Yugoslavia.
Karadzic plans to present his case in six stages. First, Karadzic will contest the prosecution's allegations and the evidence about the sniper and artillery terror campaign in Sarajevo. Next, Karadzic will turn to the incidents in which UN staff were taken hostage, the crimes in various municipalities, the genocide in Srebrenica and the insider witnesses from Republika Srpska. Karadzic also intends to present character evidence that could be relevant for the sentence if the Trial Chamber convicts Karadzic on all or some counts in the indictment. Karadzic has not ruled out the possibility that he may testify in his own defense at the end of the case. Karadzic presented his opening statement at the beginning of the trial and now plans to open the defense case with a four-hour introductory statement of the accused, presented without making the solemn declaration.