Home
ZUPLJANIN SEEKS TO TENDER NEW EVIDENCE
Stojan Zupljanin's defense seeks leave to tender into evidence the prosecution's interview with Srdja Srdic, former SDS delegate from Prijedor. The interview was disclosed to the defense after it rested its case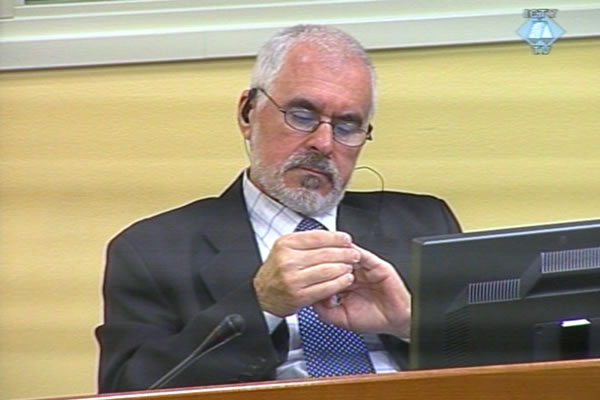 Stojan Zupljanin in the courtroom
The defense of Stojan Zupljanin, former chief of the Banja Luka Security Services Center, has filed a motion seeking leave to re-open its case in order to tender into evidence the transcript of an interview conducted by the OTP investigators with Srdja Srdic. Srdic is a former member of the SDS and the war president of the Red Cross in Prijedor. The transcript was disclosed to the defense in late February 2012, two months after Zupljanin rested his case.
The defense argues that the Rules of Procedure and Evidence allow the reopening of the case if there is new evidence which was not available to the parties before and if it has significant evidentiary value. The interview of the OTP investigators with Srdic from mid-2002 could also be admitted under the rule which allows the admission of interviews with person who have died in the meantime, as is the case with Srdic.
The defense notes that in his interview with the investigators, Srdic spoke about the nature of the activities of the Prijedor Crisis Staff, recalling that "central to the Zupljanin's defense case is the fact that the local crisis staffs acted independently of any overarching central authority".
Srdic said that Milomir Stakic, head of the Prijedor Crisis Staff, 'appeared to have everything under control' and that he was 'No. 1 man'.According to the transcript of the interview, Srdic contends that the members of the Crisis Staff and the Prijedor police chief Simo Drljaca established prison camps Omarska, Keraterm and Trnopolje. Srdic claimed that the Staff 'had the authority to order military intervention' such as the attack on Kozarac and Hambarine. Stakic was sentenced by the Tribunal to 40 years for crimes in Prijedor. In July 1997, Simo Drljaca was killed by the British troops resisting arrest. The Tribunal had indicted him and issued a warrant for his arrest.
The defense also claims that in his interview Srdic said he 'believes that someone, namely Drljaca, protected his officers involved in the Koricanske deaths from Zupljanin's investigation". As Srdic stressed, he never heard about the murder of more than 200 Muslims at Koricanske Stijene. When the prosecutor put it to Srdic that 'obviously someone in Prijedor was protecting the police officers", preventing their arrest, Srdic replied, "It's well known who it was. It was Simo, who else. What God on heaven Simo was in Prijedor".
The trial of Stojan Zupljanin and the first Bosnian Serb interior minister Mico Stanisic for crimes against Croats and Muslims in BH in 1992 ended in mid-March 2012. A total of 147 witnesses were heard from September 2009 when the trial started. The prosecution called 127 witnesses, Stanisic's defense called seven witnesses, the defense of Stojan Zupljanin called 10 witnesses and the Trial Chamber called three witnesses. The Trial Chamber has not yet set a date for the parties' closing arguments.