Home
KARADZIC AND 'TALL TALES' FROM SREBRENICA
At the trial of Radovan Karadzic, OTP investigator Stephanie Frease confirmed the authenticity and reliability of the conversations intercepted and recorded in 1995 by BH military and police audio surveillance services. Karadzic claimed that when VRS soldiers spoke about the large number of prisoners in the intercepted conversations, they were in fact exaggerating and telling 'tall tales'. Karadzic also put it to the witness the audio recordings had been further altered in the USA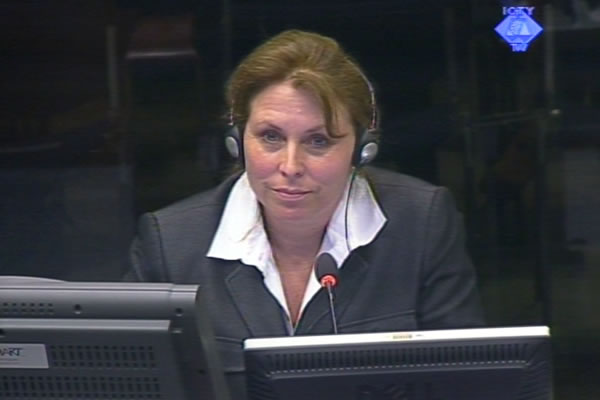 Stephanie Frease, witness at the Radovan Karadzic trial
The trial of former Republika Srpska president Radovan Karadzic for genocide and other crimes in BH continued with the evidence of Stephanie Frease. From 1998 to 2000, Frease worked as an investigator for the OTP. She was tasked with analyzing the conversations of Bosnian Serb political and military leaders intercepted in 1995 by the BH military and police audio surveillance services.
As the witness said, the analysis showed that the intercepted conversations were 'authentic and reliable'. The witness reached that conclusion by analyzing side by side the intercepted conversations, the seized VRS documents and the interviews with the operators who had recorded the conversations at several locations.
In the examination-in chief, the witness presented several examples of the way in which the documents were analyzed. In an intercepted conversation on 16 July 1995, Vujadin Popovic asked for some diesel fuel. The conversation matches the contents of several VRS documents stating that a written request for 500 liters of fuel was sent that day at approximately the same time and that the fuel was finally issued.
A similar exercise was explained in relation to the intercepted conversations that took place on 13 July 1995 at about 4pm. 'More than a thousand', or about 1,500 captured Muslims at the football field in Nova Kasaba were spoken of in the conversations. These data were corroborated by an aerial photo of the football field taken that same afternoon showing two large groups of men. The conversations are further corroborated by a document saying that on that same day, Zdravko Tolimir prohibited all access to the prisoners. The movement of UN vehicles on the road from Milici to Zvornik was to be prevented and the prisoners were to be billeted in facilities shielded from ground or aerial surveillance.
In the cross-examination, Radovan Karadzic tested the witness's knowledge of the Serbian language. According to Karadzic, numbers such as a 'thousand and then some' or '1,500' prisoners in the football field in Nova Kasaba were 'inaccurate'. Karadzic explained that these were 'tall tales': some VRS soldiers were bragging about their 'catch'. Karadzic illustrated his claims with an intercepted conversation mentioning 400 prisoners at the Nova Kasaba football field, in blithe disregard of the fact that the conversation took place in the morning and the number of prisoners went up during the day.
Karadzic also put it to the witness that the audio recordings were further altered in the USA where they were taken by Jack Hunter, an expert with the American ATF agency, who worked for the OTP. The witness replied that the recordings were only copied in the USA and the sound levels were improved.