Home
UPDATED INFORMATION ON IDENTIFIED SREBRENICA VICTIMS
Dr. Thomas Parsons from the International Commission on Missing Persons testified at the trial of Radovan Karadzic and presented the most recent data on the identification of Srebrenica mass graves victims. A total of 6,606 persons have been identified using DNA analysis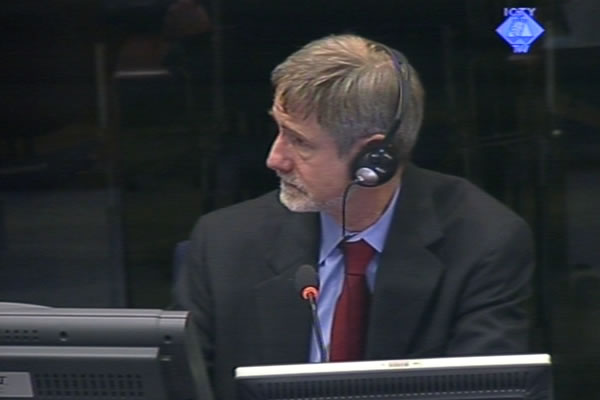 Thomas Parsons, witness at the Radovan Karadzic trial
Dr. Thomas Parsons, director of the forensic sciences in the International Commission on Missing Persons, testified today at the trial of Radovan Karadzic and presented the most recent data on the number of Srebrenica victims. The victims have been identified by matching the DNA taken from the remains exhumed from mass graves and samples taken from the surviving members of their families.
As Dr. Parsons said, until August 2011 a total of 6,530 persons whose remains were exhumed from Srebrenica mass graves were identified using 'DNA matching' method . The identification process has resumed in the meantime and according to the most recent data provided to the parties in Radovan Karadzic's trial earlier this week, the number of identified persons has risen to 6,606.
Dr. Parsons testified several times before the Tribunal about the identification of Srebrenica victims. The transcript of Dr. Parson's testimony at the trial of seven Bosnian Serb military and police officers was admitted into evidence at Radovan Karadzic's trial. The judges also admitted into evidence other related exhibits, such as the ICMP reports on Srebrenica and on the incident on Koricanske Stijene. As alleged in the indictment against Karadzic, about 200 Muslims and Croats were executed at Koricanske Stijene in August 1992. The documents were admitted under seal and the Trial Chamber will decide later if the documents will be made public at a later date.
Karadzic's legal advisor Peter Robinson demanded that the admitted documents originating from the International Commission on Missing Persons be unsealed 'in the interest of the public'. As Robinson put it, once the victims' identities are in the public domain, 'a person now living in Salt Lake City could say they are alive'. Prosecutor Kweku Vanderpuye explained that the information was under seal because the prosecution didn't want the surviving relatives of the victims to learn about their deaths as they followed the trial.
Karadzic began his cross-examination by noting that the International Commission on Missing Persons was established at a G-7 meeting at the initiative of the US president Bill Clinton. Karadzic also noted that the US State Department appointed the ICMP's Director-General. Karadzic wanted to know to whom the International Commission on Missing Persons 'reports', 'who is in charge of checking the data and correcting errors' and who finances it.
Karadzic will continue his cross-examination of Dr. Thomas Parsons on Thursday, 22 March 2012.