Home
KARADZIC INSISTS ON GREEK PRESIDENT'S TESTIMONY
Former Republika Srpska president wants to call former Greek foreign minister, now Greek president, Karolos Papoulias, to come to The Hague and testify, willy-nilly, as Karadzic's defense witness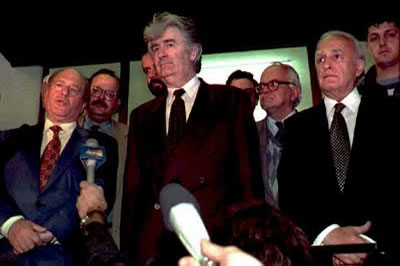 Radovan Karadzic and Karolos Papoulias
Yesterday, the Trial Chamber dismissed Karadzic's motion to issue a subpoena to Greek president Karolos Papoulias compelling him to agree to be interviewed by Karadzic's legal advisor Peter Robinson. Today, in his letter to the Greek ambassador in Holland the accused has made it clear that he still intends to call President Papoulias to The Hague as a defense witness.
In the correspondence with the authorities in Athens to date, Karadzic has been told several times that the president is unwilling to meet with Karadzic's legal advisor. Karadzic assumed that Papoulias would refuse to appear before the Tribunal and wanted the embassy to confirm that. If Karadzic's assumption is correct, he will ask the Trial Chamber to issue a subpoena to President Papoulias, compelling him to come to The Hague and testify, Karadzic explained in his letter to the Greek ambassador. Failure to comply with a subpoena is considered contempt of court; the maximum punishment is seven years in prison or a fine of up to 100,000 Euros.
Karadzic wants Papoulias to confirm before the court that the Republika president had told him in their conversations in 1994 and1995 that the Bosnian Serbs were not responsible for the first massacre at the Markale market and that the UN staff used as human shields at Bosnian Serb military facilities during NATO air strikes 'were not hostages but prisoners of war'. As Republika Srpska and Greece were on the best of terms at the time, what he told the Greek minister at those occasions should be accepted as nothing but the truth, Karadzic argued; why would he lie to one of the few friends he had at the time?