Home
KARADZIC WAS "MR. PRESIDENT"
The trial of Radovan Karadzic continued with the evidence of a BH MUP operator who was involved in the effort to intercept conversations between various Bosnian Serb politicians and military and police officers. Karadzic denies that he spoke to Milan Gvero on 11 July 1995. Karadzic argued that Gvero addressed the person on the other side of the line as 'president' rather than 'Mr. President'. The other person could very well have been the prime minister, or the president of the government, the president of the Assembly, or a president of a municipality, Karadzic said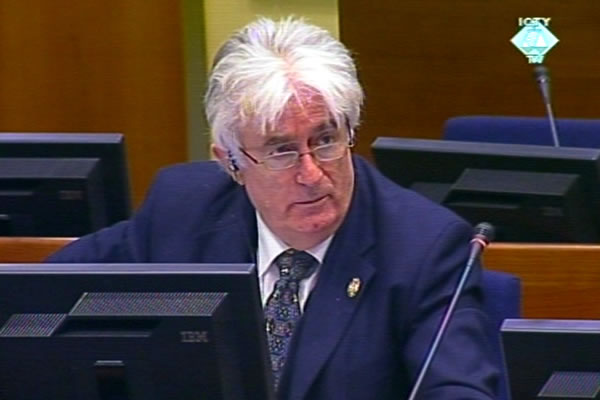 Radovan Karadzic in the courtroom
The trial of former Republika Srpska president Radovan Karadzic for genocide in Srebrenica and other crimes in BH continued with the evidence of protected witness KDZ 357. The witness was involved in the interception of conversations between various Bosnian Serb politicians and military and police officers in 1995.
Former BH MUP employee has already testified in detail at several trials in The Hague on the way in which the conversations were intercepted, recorded, transcribed and forwarded to the command in charge. The transcript of the witness's evidence at the trial of Zdravko Tolimir was admitted into evidence today. Tolimir is on trial for genocide and other crimes in Srebrenica and Zepa.
In a brief examination-in chief, the witness confirmed the authenticity of the transcripts of the conversations intercepted during the VRS operation in Srebrenica in the summer of 1995. Among them were the conversations between the accused and General Milan Gvero on 11 July 1995, the witness said. Gvero told the 'president' that the 'Serb flag is flying on the Serb church' and 'the Serb silver'. Gvero was tried before the Tribunal and sentenced to five years for the persecution and forcible transfer of the population of Srebrenica and Zepa.
In the cross-examination, Karadzic tried to contest the claim that he took part in those conversations. Karadzic noted that Gvero addressed the other person 'president', rather than 'Mr. President'. The other person could have been the prime minister, who is the president of the government, the president of the Assembly or even a president of a commission or a municipality.
The witness was convinced that Gvero talked to Karadzic and no one else. It was obvious from the context of both conversations which took place in an interval of 20 minutes. Apart from the fact that the operators were familiar with the voices of both interlocutors, the witness noted that this was a crucial point in time: surely Gvero wouldn't call a municipal president to report to him that the Serb troops had arrived in Srebrenica.
The witness dismissed Karadzic's suggestion that the operators 'arbitrarily' identified the participants of intercepted conversations. As the witness said, the accuracy of information was crucial at the time and everybody was serious about it. The witness also remembered a typical intercepted conversation in which General Mladic made arrangements with someone to film the arrival of the Serb forces into Srebrenica as this exclusive footage could later be sold for 50,000 German Marks.
The trial of Radovan Karadzic then continued in closed session with the testimony of protected witness KDZ 145.