Home
GOTOVINA'S DEFENSE: 'ACCEPT ARGUMENTS OF AMERICAN EXPERTS'
Croatian general Ante Gotovina's defense argues the motion filed by 12 American military experts about the lawfulness of the artillery attack on the Krajina towns tallies with what the defense has stated in its appellate brief. Gotovina's defense wants the Appeals Chamber, with US judge Theodor Meron presiding, to take the motion into consideration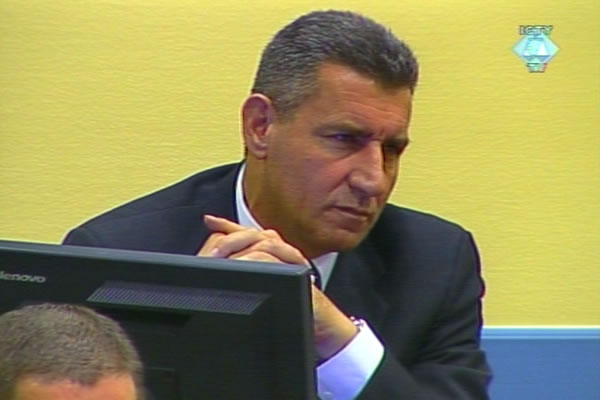 Ante Gotovina in the courtroom
Twelve military experts acting as amici curiae have recently urged the Appeals Chamber to reverse the Trial Chamber's findings in the Ante Gotovina and Mladen Markac case. The prosecution has responded by petitioning the Appeals Chamber to dismiss the motion, labeling it biased. Unlike the prosecution, the defense has urged the Appeals Chamber to accept the arguments put forward by the military experts. Croatian generals Gotovina and Markac have been sentenced to 24 and 18 years respectively for their part in the joint criminal enterprise aimed at expelling Serb civilians from Krajina during and after Operation Storm in 1995.
The defense contends that the American experts' motion may help the Appeals Chamber "in understanding matters at the intersection between the laws of war and technical aspects of conducting military operations". The American experts argue that the findings in the judgment on unlawful artillery attack on Knin and other towns in Krajina should be reversed on appeal. The defense notes that the 12 amici have a great deal of military experience and are 'independent and impartial'. The fact that one of the signatories, Professor Geoffrey Corn, testified at the trial as Gotovina's military expert does not call into doubt their independence and impartiality.
The submission filed today also notes that the American experts' arguments may assist the Appeals Chamber in deciding whether the artillery attacks on the Krajina towns were lawful or not. The submission recalls a point made by the amici that Gotovina purportedly complied with international humanitarian law when he ordered the attack on Knin, including the targeting of the apartment used by the former president of the so-called Republika Srpska Krajina, Milan Martic. A former OTP legal advisor and several law professors are among the 12 experts.
The Appeals Chamber should rely on the positions put forward by the American experts regarding the Trial Chamber's finding that all the Croatian Army artillery shells that impacted at a distance greater than 200 meters from military targets as part of a deliberate attack on civilian targets. The amici curiae have expressed their 'concern' about that part of the judgment, stating that it was 'inconsistent with reality'.
Gotovina's defense repeats several times in their submission that the 12 American experts have a total of '290 years of military experience', noting that their findings substantially match the arguments put forward in the defense's appellate brief.
The defense therefore wants the Appeals Chamber to grant the motion filed by the amici curiae and allow the parties to submit their detailed comments on the document.