Home
PROSECUTION URGES JUDGES TO REJECT AMERICAN EXPERTS' BRIEF
The prosecution has responded to the brief filed by twelve military experts who urged the Appeals Chamber as amici curiae to reject the Trial Chamber's findings in the case of Croatian generals Ante Gotovina and Mladen Markac. 'The prosecution contends that the brief "couldn't assist Appeals Chamber' as its contents are 'irrelevant' and its authors 'are neither objective nor impartial'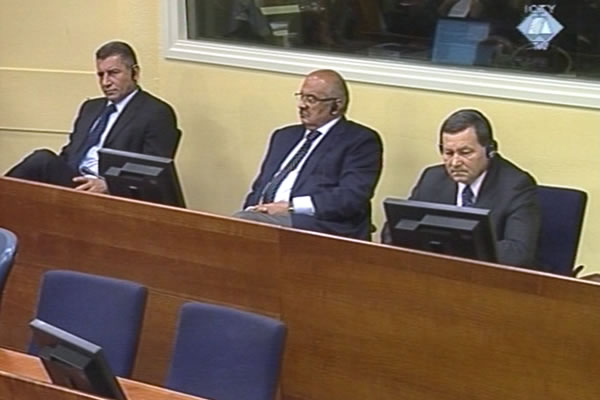 Ante Gotovina, Ivan Cermak and Mladen Markac in the courtroom
The prosecution has urged the Appeals Chamber hearing the case of Croatian generals Ante Gotovina and Mladen Markac to reject the brief filed by 12 military experts in the capacity of the amici curiae. In their brief, they urged the judges to reject the Trial Chamber's findings on the unlawful artillery attacks on civilians in Knin and other Krajina towns during Operation Storm in August 1995. Generals Gotovina and Cermak were sentenced to 24 and 18 years respectively for their involvement in the joint criminal enterprise aimed at eliminating Serbs from Krajina.
The prosecution contends that the brief filed by the amici curiae "couldn't assist Appeals Chamber" because it was for the most part 'irrelevant'. Large parts of the brief "repeat" what expert witnesses told the Trial Chamber during the defense case, the prosecution contends.
The prosecution notes in its response that the amici curiae 'raise factual issues" and 'discuss non-controversial principles of law', such as the postulates that criminal responsibility must be determined on the basis of the totality of the available evidence, that it is necessary to determine the existence of the mens rea of the accused and the presumption of innocence. The Trial Chamber took those principles into consideration in their judgment, the prosecution notes.
The prosecution also argues that the military experts didn't address "questions of law" as they 'should do as amici curiae', but were focused on "issues of fact" and offering their own 'conclusions that the Trial Chamber erred in number of areas". They were thus trying to assume the roles of 'defense lawyers, experts and fact finders'. As the prosecution argues, this 'cannot assist the Appeals Chamber'.
The prosecution argues that the amici curiae are 'not objective' and that their brief is based on 'a flawed understanding of the meaning and content of the Judgment'. As the prosecution argued, Geoffrey Corn served as a military expert in Ante Gotovina's defense team, yet now he signed his name as an 'amicus curiae' who 'should be objective and impartial'.
The prosecution wants the judges to reject the brief filed by the amici curiae. However, if the Appeals Chamber decides to admit it, the prosecution wants to be afforded "sufficient opportunity to respond fully on the merits to the submissions and to test factual assertions made in it".