Home
KARADZIC: SDA SECRETLY PREPARED FOR WAR AGAINST SERBS
In the cross-examination of former SDA official Mevludin Sejmenovic, Radovan Karadzic wanted to prove that the Muslims in Prijedor had secretly been preparing for the war against the Serbs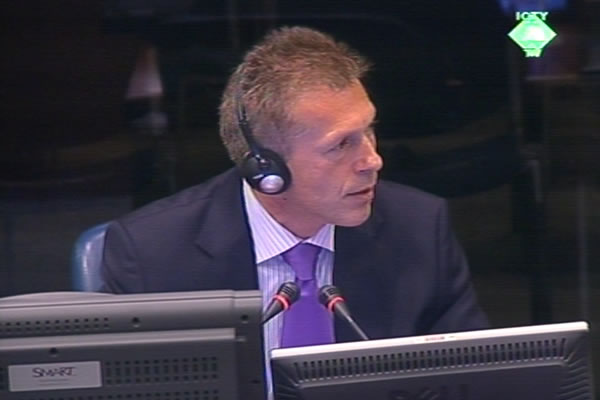 Mevludin Sejmenović, witness at the Radovan Karadzic trial
In the cross-examination of former official of the Democratic Action Party from Prijedor Mevludin Sejmenovic, Radovan Karadzic used documents that, in his view, show that the Muslims in Prijedor had secretly been preparing for the war against the Serbs. Once the Serbs discovered this, they launched 'preemptive' action.
Karadzic argued that the Patriotic League was established in late April 1991 and then, a few months later, the Muslims' National Defense Council was formed at a SDA meeting on 10 June 1991 in the Police Hall in Sarajevo. According to Karadzic, when the war broke out, the Patriotic League, under the command of Sefer Halilovic, already had its units in 103 BH municipalities, including Prijedor.
The witness confirmed that he had attended the meeting in the Police Hall in Sarajevo in June 1991, but he insisted that it was a meeting attended by intellectuals, not only from the Muslim ethnic community, but from other ethnicities, including Serbs. Sejmenovic contends that the body established at the meeting was the BH National Defense Council; it was not meant to defend the Muslims. In the Prijedor area there were no Patriotic League units, the witness said, telling the accused he should speak to Halilovic and ask him about this.
Karadzic also tried to contest the witness's evidence about a telephone conversation between the president of the Autonomous Region of Krajina Vojo Kupresanin and the 'president'. In the conversation in early August 1992, 'the president' told Kupresanin to 'get [Sejmenovic] a suit', 'fatten him up' and 'make him get better'. Sejmenovic, who was a detainee in the Omarska prison camp at the time, believed that the 'president' was Karadzic.
Karadzic claimed such a conversation could not have taken place because the lines between Sarajevo and Banja Luka were down at the time and were reestablished again only in September 1992. The witness dismissed this claim, noting he was in the office during the conversation and was able to hear and recognize Karadzic's voice. Kupresanin later personally told Sejmenovic he had been talking to Karadzic, the witness said.
Karadzic then turned to the 1981 census, claiming that 41.6% Serbs, 38.7% Muslims and 6.7% Croats lived in Prijedor at the time. Karadzic also contended that the SDS was unhappy with the results of the 1990 elections; there were claims of irregularities.
'It was not our fault that there weren't as many Serbs in Prijedor as the SDS wanted', the witness replied. In the re-examination, prosecutor Alan Tieger brought up more recent data than Karadzic showed. Tieger showed results of 1991 census in Prijedor. The data displayed that at the time of the elections before the conflict about 49,000 Muslims, 47,000 Serbs and 6,000 Croats lived in Prijedor.
The trial of the former Republika Srpska president for genocide and other crimes in BH continues next week.