Home
SUFFERING OF CROATS IN BRISEVO
Two protected witnesses gave evidence at the trial of Radovan Karadzic; their testimony was heard in closed session. As the hearing drew to its close, Ivo Atlija, Bosnian Croat from Prijedor, was called to the witness stand. Atlija testified about the Serb forces' crimes against the people in the Croatian villages and hamlets in the Prijedor region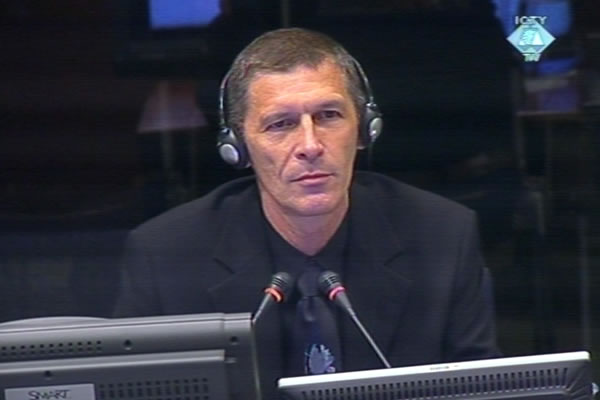 Ivo Atlija, witness at the Radovan Karadzic trial
The trial of former Republika Srpska president Radovan Karadzic for genocide and other crimes in the BH war proceeded almost entirely in closed session this week. After two protected witnesses with pseudonyms KDZ 492 and KDZ 490 completed their evidence, the prosecutor called Bosnian Croat from Prijedor Ivo Atlija to the witness stand. Atlija testified about the Serb forces' crimes against Croatian civilians throughout Prijedor municipality.
The transcript of Atlija's evidence at the trial of Milomir Stakic in 2002 was admitted into evidence. According to the summary of the evidence read out court, in late April 1992 when the Serbian Democratic Party seized power in Prijedor the witness went to the Croatian village of Brisevo. From there, Atlija was able to observe the Serb forces attack the village of Hambarine and the destruction of the houses in the villages of Carakovo, Rizvanovici and Kozarac.
The witness described the shelling of Brisevo on 27 May 1992 and the infantry and artillery attack on the village on 24 July 1992. Sixty-eight people were killed in the second attack. Among them were the witness's father, 14 women, two boys and four disabled persons. After the attack, 36 men were arrested and taken to the Krinks prison camp. Before he left Brisevo in November 1992, the witness helped bury more than 200 victims.
Atlija took part in the burial of the Ivandic family, from the hamlet of Mlinari. Serb soldiers forced them to leave their family house and to dig their own graves. They were then killed and left half-buried in the graves. Apart from the Ivandic family, the witness mentioned dozens of other Croats from Brisevo who had met a similar fate. All of them were later buried near their family homes in the hamlets of Puzici, Jezerce, Mustanica, Stara Rijeka and Ivandici.
At the beginning of the cross-examination, Karadzic asked the witness if he could testify 'impartially' because his father was killed in the second attack on Brisevo. Atlija answered it was not a problem: in his evidence he would say 'only things I am certain of', just as he had in his previous testimony.
Karadzic will complete his cross-examination of Ivo Atlija on Wednesday, 26 October 2011 when the trial resumes.