Home
WITNESS: PRISONERS WERE TAKEN OUT TO BE EXCHANGED, NOT KILLED
In the cross-examination of the prosecution witness KDZ 163, Radovan Karadzic claimed that the incidents in the field were the result of 'lack of discipline, uncultured behavior and social pathology' of individuals. The witness mostly confirmed Karadzic's claims. The witness agreed with Karadzic that prisoners who were taken out of the prison never to return were not killed but were either exchanged or released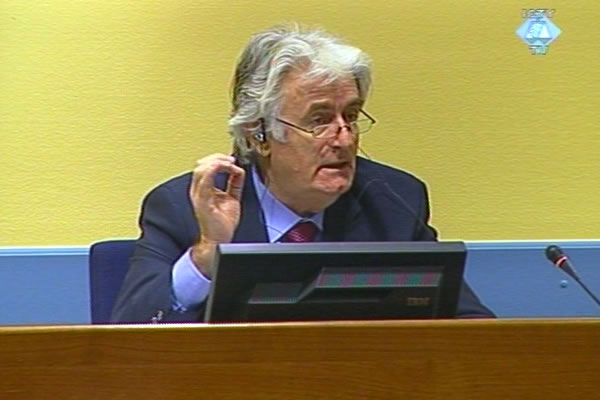 Radovan Karadzic in the courtroom
The trial of Radovan Karadzic for genocide and other crimes in BH continued with the cross-examination of protected witness KDZ 163. The witness is a Bosnian Serb who did some jobs in the Manjaca prison camp in 1992. Because of the protective measures, it remained unclear what role the witness had in the prison camp. Based on some of his answers, it could be concluded that the witness was involved in the interrogation of prisoners.
Karadzic used this witness to restate his case that the prisoners who were taken out of the prison camp separately or in groups never to return were exchanged or released and not killed. The witness confirmed this was the case in the Manjaca prison camp, saying that 'such prisoners were for the most part exchanged'. 'None of the prisoners was injured or, God forbid, was killed', the witness said.
In the examination-in chief, the witness confirmed 24 prisoners died on 7 July en route from the Omarska prison camp to the Manjaca camp because of inhumane conditions in transport. The witness also confirmed that a number of persons from Omarska were killed at the entrance to Manjaca on 6 August 1992. But, as he said, there were 'five deaths', two 'violent' and three 'natural'; nobody else was killed in the prison camp, the witness said.
Karadzic claimed that the incidents in the field resulted from 'lack of discipline, uncultured behavior and social pathology' of individuals. According to Karadzic, he and other political and military leaders ordered their subordinate commands to comply with the international laws of war and the Geneva Conventions. The witness confirmed that every officer was well acquainted with those orders.
The witness mostly confirmed everything Karadzic said, including his claims that prisoners were 'prone' to covering up their involvement in military operations and claiming they were civilians. The witness agreed with Karadzic that in a civil war people customarily fight in civilian clothes. The witness added that during the war in BH 'sneakers were all the rage' because it was 'easier to run in' them than in military boots.
According to the witness, about 95 percent of the 4,403 prisoners in Manjaca were Muslims, almost 5 percent were Croats and there was a total of five Serbs. The witness nevertheless agreed with Karadzic's suggestion that ethnicity or religion were not the reason why prisoners were detained in the camp. The witness claimed he 'never even thought about religion or ethnicity' because for him it was 'an immaterial issue'.
Karadzic's trial continues tomorrow with the evidence of Nenad Krejic, former chief of the Public Security Station in Skender Vakuf.