Home
GOTOVINA'S DEFENSE RENEWS REQUEST FOR ASSISTANCE FROM SERBIA
The defense of the Croatian general once again asks the Appeals Chamber to issue a subpoena to the Republic of Serbia compelling it to deliver documents that could purportedly help Ante Gotovina to overturn the Trial Chamber's judgment on appeal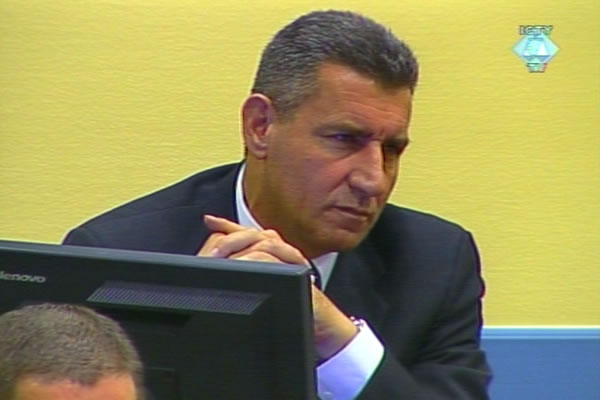 Ante Gotovina in the courtroom
Ante Gotovina's defense today renewed its request to the Appeals Chamber to issue a subpoena to the Republic of Serbia to compel it to deliver documents that, in its opinion, might help the accused in his appeal. The documents are the reports of the officers serving in the VJ 40th Personnel Center in the Krajina Serb Army about the events during Operation Storm. The defense believes that those reports exist and that the information they contain could help it prove that the Krajina Serbs didn't flee their homes in fear of the Croatian Army's shells but because the Knin authorities ordered them to evacuate.
Gotovina's defense wrote to the Serb authorities on 15 June 2011 asking them to provide the documents. Having received no response after a week, the defense filed a motion to the Appeals Chamber, asking it to issue a subpoena to Serbia to compel it to disclose the documents to the defense. In the motion, the defense noted that the minutes from the Supreme Defense Council from August 1995 showed that all the officers from the 40th Personnel Center, including the commander, were under an obligation to submit 'reports on the events in their units' areas of responsibility during the Croatian aggression on the RSK' to the chief of the VJ General Staff Momcilo Perisic. According to the defense, the reports 'might contain" information about the Serbs' exodus from Krajina which could favor the accused general. The defense submitted an exact list of documents or at least the indicia of their existence, in a confidential appendix.
On 19 July 2011, the Appeals Chamber rejected the defense's motion stating that Serbia 'has not been given enough time to respond to the defense request' and that 'it could not yet be said that Serbia was refusing to voluntarily produce the requested documents'. The defense sent a letter to Rasim Ljajic, head of the National Council for Cooperation with the ICTY the same day, renewing its demand for the documents to be delivered. Having received no answer from Serbia, the defense has now decided to again ask the Appeals Chamber to intervene.
In its motion, the defense urged the Appeals Chamber to order Serbia to deliver the documents 'without delay' by 30 September 2011. The defense says the judges should decide to do this 'without giving Serbia an opportunity to be heard'.
Generals Ante Gotovina and Mladen Markac were sentenced to 24 and 18 years respectively for their part in the joint criminal enterprise headed by Croatian president Tudjman. The goal of the joint criminal enterprise was to forcibly and permanently expel the Serb civilians from Krajina during and after Operation Storm in the summer of 1995. The judges acquitted General Ivan Cermak of all charges in the indictment. Both Gotovina's and Markac's defense teams appealed against the judgment. The prosecution decided not to appeal.