Home
CROATIAN GENERALS GET AN APPEALS CHAMBER
ICTY president Patrick Robinson has appointed five judges who will rule on the appeals filed by the defense teams of Ante Gotovina and Mladen Markac. The Croatian generals have appealed their conviction for the joint criminal enterprise and their sentences, 24 years for Gotovina and 18 years in prison for Markac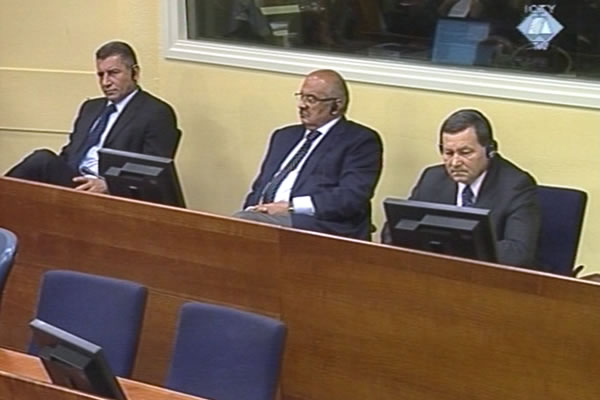 Ante Gotovina, Ivan Cermak and Mladen Markac in the courtroom
The Tribunal today announced the composition of the Appeals Chamber that will hear the appeals in the case of two Croatian generals: judges Mehmet Guney from Turkey, Fausto Pocar from Italy, Andresia Vaz from Senegal, Theodor Meron from the USA and Carmel Agius from Malta. The Tribunal's president Patrick Robinson signed the decision on their appointment.
The judges will deliver their judgment on the appeals filed by the defense teams against the Trial Chamber's judgment sentencing Gotovina to 24 years and Markac to 18 years in prison for their involvement in the joint criminal enterprise aimed at forcible and permanent elimination of Serb civilians from Krajina. In the judgment, the Trial Chamber with Dutch judge Alphons Orie presiding found the two generals guilty of persecution, murder, deportation and other crimes against Krajina Serbs and their property during and after Operation Storm in the summer of 1995. The Trial Chamber acquitted General Ivan Cermak of all charges.
The prosecution hasn't appealed against the judgment, considering that as far as Gotovina and Markac are concerned, the Trial Chamber's findings 'adequately reflect the scale of the crime and the individual responsibility' of the accused. As for Cermak's acquittal, the prosecution considers there 'is not much hope for success of an appeal that would justify launching the appellate proceedings'.