Home
WITNESS: CONFLICT WAS IN THE AIR
In the part of his evidence in open session, former member of the Yellow Wasps unit from Zvornik said that in early April 1992 the conflict in that town 'was in the air'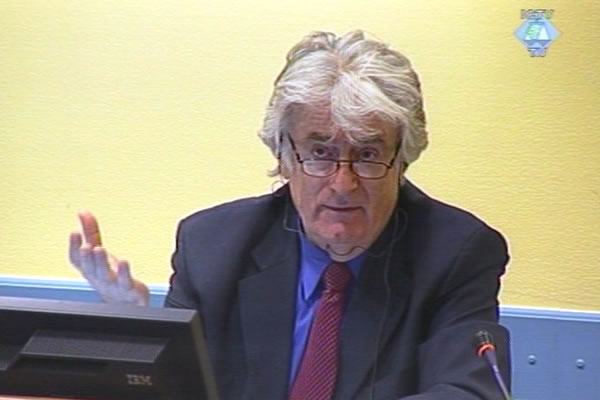 Radovan Karadzic in the courtroom
At the trial of Radovan Karadzic, the written statement of the protected witness KDZ 340 was admitted into evidence. The statement is based on his previous evidence at various trials in The Hague. In order to protect the witness's identity, he gave most of his evidence in closed session. The prosecutor did not read the usual summary of the witness's statement at the beginning of his evidence.
The brief parts of the hearing that proceeded in open session made it clear that the witness was a former member of the Yellow Wasps; he was arrested in July 1992 in an operation run by a special unit of the federal SUP. The witness was later released together with other members of the unit led by Vojin Vuckovic Zuco.
As Karadzic cross-examined him, the witness said that all the Serbs and some of the Muslims left town in early April 1992, in fear of the conflict that 'was in the air'. According to the witness, Muslims in the active and reserve police force instilled this fear as they paraded the town with rifles. The news that the 'rump' BH presidency declared a general call-up on 4 April 1992, the murder of a Serb wedding guest in Sarajevo and the crisis in Bijeljina increased the fear.
The witness added that before the conflict, Muslim police officers in Zvornik gave to the people from their ethnic community the weapons stored in the MUP depot they controlled. Serbs received arms from the Territorial Defense depot in Mali Zvornik in Serbia, on the other bank of the Drina river. When the JNA withdrew from BH in May 1992, the weapons kept there were moved to Zvornik.
In the re-examination, prosecutor Alan Tieger brought up a document from the Zvornik MUP, which says that in January and February 1992 Serb police officers allowed the consignments of weapons and other material to pass in order for the Serbs to be armed. The witness claimed the Serbs had not taken arms from the Zvornik MUP. To his knowledge, the witness said, Serbs 'helped' transport the arms from the Territorial Defense depot in Mali Zvornik.
Radovan Karadzic's trial continues on Monday with the evidence of yet another witness who will be testifying with image and voice distortion as protective measures.