Home
ZVORNIK AUTHORITIES WERE 'NAÏVE AS SHEEP'
Former Serb official from Zvornik contends at the trial of Radovan Karadzic that the members of the Serb Crisis Staff in Zvornik at the beginning of the war weren't able 'to discern who is who' among the volunteer groups. They were naïve 'as sheep' and put their trust in anybody who came and offered help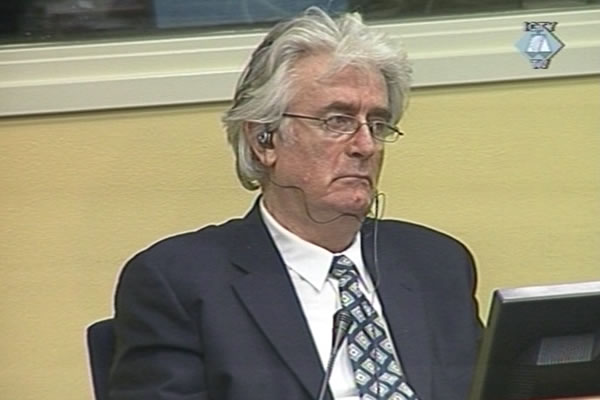 Radovan Karadzic in the courtroom
Former Republika Srpska president Radovan Karadzic continued his cross-examination of the former Serb official from Zvornik. Karadzic tried to prove that the local authorities weren't able to 'discern who is who' among the volunteer groups, which included the notorious 'Yellow Wasps' and groups run by the men called Niski and Pivarski.
According to the witness who is testifying under the pseudonym KDZ 555, the members of the Serb Crisis Staff in Zvornik were 'inexperienced' and naïve 'as sheep'; they trusted anybody who came and offered help. 'Whoever dropped by and introduced themselves as an important player and proposed something, we thought it was good', the witness said. In the meantime, the volunteer groups went rogue and became 'paramilitaries', maltreating the municipal leaders and the territorial defense.
Karadzic used the witness in a bid to prove that there was no eviction of Muslims from Zvornik while local municipal authorities were still able to do their job unhindered. According to Karadzic, the boast made by the municipal leaders at a meeting with Karadzic and Mladic on 30 June 1992 that they were currently the 'most productive at evacuating Muslims' was 'a sarcastic remark' typical of the Serb mentality and language.
Karadzic also noted that all the decisions about the property of displaced persons and refugees were 'temporary'. According to Karadzic, had there been a plan to ethnicallycleanse the Muslims, the residents of Kozluk would have been expelled at the very beginning of the war, yet the Muslims were actually persuaded to stay until late June 1992. At that time, Muslims decided 'on their own' to leave. Karadzic claimed that the Muslim side 'tried to persuade' its people that they should 'go to the woods' and fight.
After the witness completed his evidence, yet another Zvornik insider was called to the stand. The new witness also testifies with image and voice distortion as protective measures, under the pseudonym KDZ 340. His evidence continues tomorrow.