Home
GOTOVINA DOESN'T WANT THE EUROPEAN MONITORS' REPORTS TO REMAIN UNDER SEAL
General Gotovina's defense opposes the prosecution motion supporting the request of the European Union to place under seal some of the documents produced by the EC monitors during Operation Storm. Gotovina's defense contends it will jeopardize the rights of EU citizens, including Ante Gotovina, who is a French national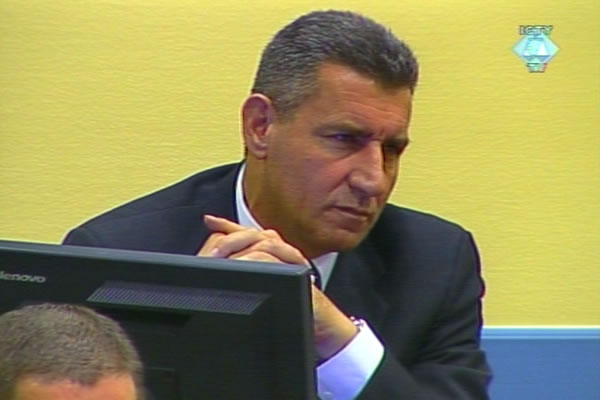 Ante Gotovina in the courtroom
Ante Gotovina's defense considers that the Trial Chamber should dismiss the recent prosecution motion asking the judges to place under seal some of the documents produced by the European Community Monitoring Mission (ECMM) in Krajina during and after Operation Storm. The EC monitors' documents were used in public session during the trial of generals Gotovina, Cermak and Markac.
Mladen Markac's defense has in the meantime jointed the motion filed by Gotovina's defense, which states that the prosecution has failed to demonstrate that the EU request for confidentiality of the documents has been submitted on time and that "the Trial Chamber should not at this late stage retroactively take documents out of the public domain'. The Trial Chamber and the defense, the motion notes, have not received the correspondence between the prosecution and the EU. Without it, it is impossible to assess if the motion has been submitted on time or not.
In its recent motion, the prosecution notes that the EU has demanded that some of the EC monitors' documents be placed under seal, but is not opposed to the judges 'referring to the contents of those reports publicly in their judgment inasmuch as it is necessary'. The defense warns that granting this request would violate the rights of the EU citizens, because they would be prevented from inspecting the documents, yet at the same time the Tribunal would be allowed to use the same documents publicly, at least in part. One of the EU citizens whose rights would be jeopardized is General Gotovina, the defense notes, as he is a French citizen.
The defense notes that yet another French citizen – Ivan Jurasinovic – was denied his rights directly when his request to examine the EU archives was finally rejected last year. Jurasinovic hoped to locate the reports filed by the team of EC monitors stationed in Knin. The defense had sought those documents but Brussels claimed the documents didn't exist. The motion goes on to state that General Gotovina has been prevented from inspecting those reports although they 'are considered to be essential for his defense'. The documents 'could refute' the prosecutor's allegations that civilian targets were shelled and that Croatian forces were engaged in burning, looting, and killing on a massive scale during and after Operation Storm. The defense indicates it will raise the issue in the appellate proceedings 'if it proves to be necessary', i.e., if Gotovina is convicted.
Ante Gotovina, Ivan Cermak and Mladen Markac stood trial for their alleged part in the joint criminal enterprise aimed at expelling Serbs from Krajina. The prosecution alleges that the goals of the enterprise were implemented through crimes perpetrated during and after Operation Storm in the summer of 1995. The Trial Chamber indicated it would deliver its judgment on 15 April 1995.