Home
JUDGMENT FOR CROATIAN GENERALS DUE ON 15 APRIL
Judge Orie's Trial Chamber has scheduled the date for the delivery of the judgment to generals Gotovina, Cermak and Markac, who were tried for crimes against Krajina Serbs during and after Operation Storm, in the summer of 1995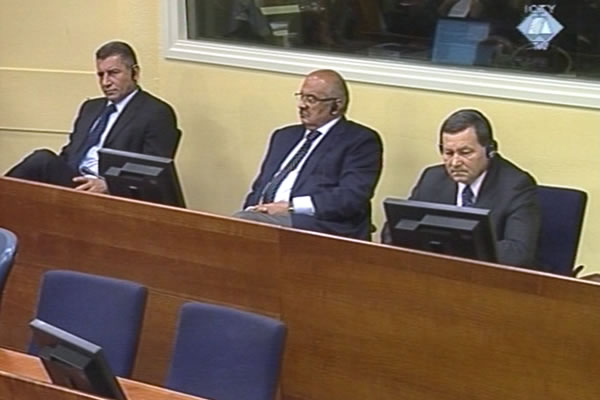 Ante Gotovina, Ivan Cermak and Mladen Markac in the courtroom
The Trial Chamber will deliver its judgment to Croatian generals Ante Gotovina, Ivan Cermak and Mladen Markac for crimes against Serbs during and after Operation Storm on Friday, 15 April 2011 at 11 am, it was disclosed today at the Tribunal.
The Gotovina, Cermak and Markac trial that began on 11 March 2008 ended with the closing arguments of the parties delivered in late August and early September 2010, after 303 working days and a total of 145 witnesses.
The prosecution has asked Judge Orie's Trial Chamber to sentence Ante Gotovina, who commanded Operation Storm, to 27 years, Ivan Cermak, who was the Knin garrison commander, to 17 years and Mladen Markac, who headed the special police to 23 years in prison. In their closing arguments, the defense of the three accused called for their clients' acquittal.
Generals Gotovina, Cermak and Markac are charged with their role in a joint criminal enterprise aimed at the permanent elimination of Serb civilians from the parts of Krajina liberated in the summer of 1995. As alleged in the indictment, the objective was implemented by 'force, intimidation, persecution, forcible transfer, deportation, looting and destruction of property' of Serb civilians. At the same time, it could be assumed that murders and inhumane and cruel treatment were 'a possible consequence of the implementation of the objective of the joint criminal enterprise' headed by the then Croatian president Franjo Tudjman.