Home
PUBLIC ASPECT OF CONFIDENTIAL DOCUMENTS
Following a request of the European Union, the prosecution has asked that some of the documents produced by the European monitors in Krajina during and after Operation Storm be placed under seal, although it is not opposed to the contents being discussed publicly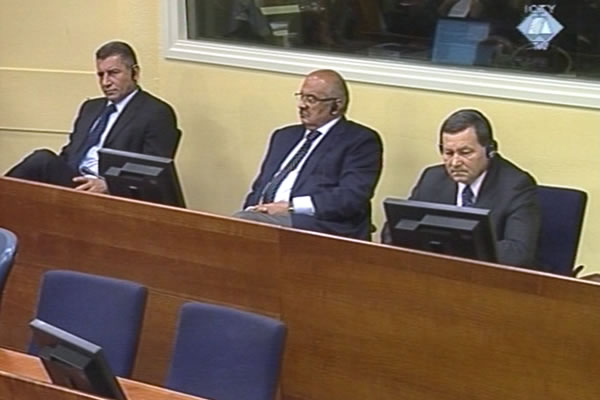 Ante Gotovina, Ivan Cermak i Mladen Markac in the courtroom
The prosecution has filed a motion to place under seal some of the documents produced by the European Community Monitoring Mission used during the trial of Croatian generals Gotovina, Cermak and Markac. In the motion to Judge Orie's Trial Chamber, the prosecution explains the move has been prompted by a demand from the European Union, which has supplied some of the ECMM documents.
In line with the European Union's request, the prosecution notes that it 'is not opposed to the judges publicly referring in their judgment to the contents of those reports inasmuch as it is necessary, as long as the documents remain confidential'. In other words, the public will not have access to the documents, except when the Trial Chamber mentions them in the judgment. During the trial a number of EC monitors' reports were used in closed session.
An annex containing brief summaries of some of the documents that should be placed under seal was attached to the prosecution motion. These are mostly daily and periodical reports of the European monitor teams in Knin and elsewhere in Krajina in August 1995. Among them is a report which says that General Gotovina told the monitors 'the police must stop the looting, arson and abuse', but that he understands it when people hate their enemy because it is a 'normal human response'.
The documents refer to the looting and burning down of Serb houses; some deal with the incident in which civilians were killed and houses were burned in the village of Grubori. A report filed by the European monitors covering the period from 6 to 12 August 1995 speaks about 'needless looting and brutality of the Croatian Army' and goes on to state that the destruction of various towns in Krajina – Knin in particular – continued. The reports refer to General Ivan Cermak as 'the military governor' of Knin; according to the documents, he was at the 'center of the military and political power' in the Krajina area.
The trial of general Ante Gotovina, Ivan Cermak and Mladen Markac for crimes against Serbs during and after Operation Storm ended in September 2010. The Trial Chamber has announced it will deliver the judgment on 15 April 2011.